lot 40 cask strength review
Lot 40 Cask Strength 12 Year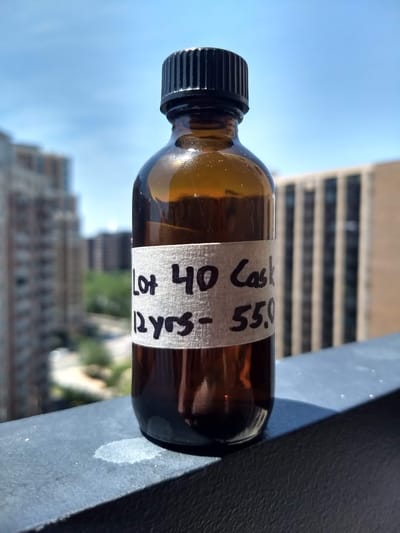 From the Distiller.com:
"This 12-year-old cask strength whisky is part of the 2017 Northern Borders Rare Collection. The first distillation of this double distilled 100% rye whisky was passed through a short column still with the second distillation passing through a copper pot still. The rye was aged in new oak barrels and bottled at 55%. Limited availability in Canada with a very limited allocation in Europe and the US."
lot 40 cask strength overview
Lot 40 Cask Strength 12 Year is the 100% rye Canadian Whiskey from the Northern Borders Rare Collection, sometimes called Canada's BTAC. This 12 year rye is from the 2017 release, and just like BTAC, each year's release is made in small batches so the age and proof vary. In the US, we really only get the regular Lot 40 that clocks in at 43% alcohol, as well as endless waves of Canadian Club, Crown Royal, and generally run-of-the-mill whiskey. Canada is really trying to keep all the good stuff for themselves, but then again we do the same in the US.
Even though this is Canadian, Lot 40 Cask Strength is made in a similar fashion to American-made rye whiskeys: with at least 51% rye, double distilled, and aged in oak barrels. Unlike a growing number of American-made whiskey, from my understanding Canadian Whiskey is infrequently sold at cask strength, so this sample of Lot 40 Cask Strength is a unique treat. I don't know a ton about Canadian whiskey, but the most important things are how it smells and tastes, so time to dive nose-first into this Lot 40 Cask Strength 12 Year rye whiskey review.
*Thanks to Joe T. for providing this sample.
lot 40 cask strength smell
Lot 40 Cask Strength 12 Year is pleasantly fragrant. Just like any high-rye rye whiskey such as Bulleit 12 or WhistlePig 10, Lot 40 is incredibly bright and rich with generous servings of sweet honeyed anise, licorice, fennel, and mint. It also has a bit of wet freshly cut grass, damp flowers, and pine tree, as well as a sprinkle of dark honey and preserved lemon to darken the mood. This nose has the unmistakable 95-100% rye notes that sometimes remind me of an all-natural minty chewing gum, refreshing and lovely. Even with 12 years in oak barrels, there's not much charred wood, cinnamon, or cocoa; if anything, the wood comes off slightly soggy, like an evergreen forest after rain. Lot 40 Cask Strength doesn't have much heat either, impressive for something loaded with 55% alcohol.
Swirling does make the alcohol poke my nose a little, but that calms quickly. The sweetness is a dense, dark, and floral artisanal honey with a drop of maple syrup, minty banana, and honeydew, all wrapped up in a thick layer of licorice and fennel. There's still not much wood spice (such as cinnamon), instead replaced by pungent rye character such as mint, anise, and licorice. The rye also seems to give off something vegetal and leafy, which is very enjoyable. All the herbal and vegetal qualities in a way remind me of being in the woods without actually being outside. The nose continues to emit pleasant notes – minty banana, honeydew, yellow dragonfruit, and guava that keep bringing me back for more. Lot 40 Cask Strength smells amazing with everything one could want from a rye whiskey.
lot 40 cask strength taste & aftertaste
Lot 40 Cask Strength brings the same intense herbal and sweet honey with anise, licorice, and fennel from rye, but not much mint. There's a darker blood orange and concentrated grapefruit fruitiness, but with much less wood than I expected from a 12-year-old whiskey aged in new oak. The alcohol is definitely stronger in my mouth and brings the rye spice and heat, but is still manageable and enjoyable. This rye whiskey so far is incredibly sweet and herbal – a quintessential high rye that I already like. 
"Chewing" helps me put all the many rich pieces together. Lot 40 Cask Strength is a lot like herbal, earthy, and bitter black tea with honey, lemon, green grape, and starfruit sweetness all blended together with more cinnamon, anise, licorice, and mint with quite a bit of alcohol kick. The tea-ness also reminds me of chrysanthemum tea (if you're wondering, you can usually get it at Chinese restaurants). Graininess makes a quick appearance, but is not much of a factor. Oak finally wakes up, bringing roasty notes – cinnamon, black pepper, and dried tea leaves that accentuate the dense herbal sweetness, but does not take over as it might in bourbon. 
The finish starts with a slight alcohol burn that coats my mouth followed by that same bright, herbal, and minty fruitiness from the rye that just keeps going. "Chewing" brings out more of that alcohol tingle with licorice, green grapes, anise, mint, and honey with a little oak tannin that keeps going and going like the Duracell bunny. The flavors and finish are outstandingly delicious and memorable.
Place on the Whiskey Shelf

Lot 40 Cask Strength is an outstanding Canadian rye whiskey, and certainly one of the top rye whiskeys I've had. As the great high-rye ryes usually are, the sweetness is a bit more medicinal and herbal with licorice, fennel, tropical fruits, green grapes, while it's all less woody and dark, but nonetheless rich and enchanting. I also appreciate that the high proof provides so much richness and complexity without the undesirable side effect of unruly heat. Lot 40 Cask strength is great for those who like this type of rye, and unpleasant for those who are put off by the abundant licorice, anise, and fennel that are crammed to brim. I would love to get my hands on a bottle of this (at a reasonable price of course).
I lament that it's very unavailable in the US, but I can imagine that it's difficult to find in Canada as well. It's too bad that the major Canadian brands don't bring more of this great cask strength whiskey directly to the US, but third parties such as WhistlePig and Barrell are doing a great job sourcing it instead.
While we have to live with the unfortunate fact that not many of us will ever drink this, there are a number of comparable options sourced from Canada such as WhistlePig 10 or Alberta-sourced WhistlePig single barrel picks (some are sourced from MGP). If you expand into the US, Bulleit 12 Year Rye or Sagamore Spirit Cask Strength / Barrel Select will likely satisfy you as well. Lot 40 Cask Strength 12 Year, and probably any annual release of Lot 40 Cask Strength, is a keeper.