Kooper Family Rye Whiskey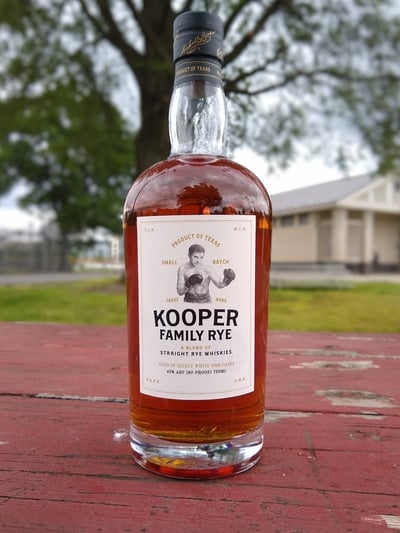 Distillery: Kooper Family Whiskey (sourced from undisclosed distilleries)
Type & Region: Rye whiskey, USA
Alcohol: 45%
Composition: 51% Rye, 36% Corn, 13% Malt + 95% Rye, 5% Malt
Aged: Blend of 3 and 5 year old rye whiskeys
Color: 0.9/2.0 on the color scale (amontillado sherry)
Price: $40
From the back of the bottle:
"Kooper Family Rye is a thoughtfully crafted blend of our five-year-old corn0fed Stragith Rye & our fiery three-year-old Straight Rye, aged slowly and married together in small batches by our small family. These unique Rye Whiskeys undertake a long, gradual journey maturing the powerful & moody Texas climate before being carefully blended together along with a measure of pure Limestone filtered Texas spring water. This is how we develop Kooper Family Rye's superior complexity and signature smoothness"
Kooper Family Rye overview
Kooper Family Rye is a blend of 3 and 5 year old rye whiskeys sourced from undisclosed distilleries (the 95% rye is likely from MGP) that are aged and blended in Ledbetter, Texas by Troy and Michelle Kooper, the founders. If you want to learn more about Kooper Family Whiskey Co, I recommend you check out my review of their Sweetheart of the Rodeo Bourbon or their website. I quite enjoyed their 4 year old Sweetheart of the Rodeo bourbon, so let's learn more about their American-sourced and Texas-aged rye whiskey in this Kooper Family Rye Whiskey review.
Thank you to Troy Kooper from Kooper Family Whiskey for providing this bottle with no strings attached. All opinions are still my own.
The rye in Kooper Family Rye Whiskey leaps out the glass with dill, anise, guava, pineapple, and rosemary followed by honey, grilled peaches, toasted grain, and dry oak (not so much dark and roasted oak). While it's not big and powerful, it's still an incredibly fruity and vibrant rye whiskey with very little heat – a refreshingly fragrant nose.
The nose changes quite a bit after swirling. It's sweet and herbal cotton candy from a blend of honey, vanilla, pear, dill, licorice, green grapes, pineapple, and freshly pressed sugarcane. It's very fruity and vanilla-y now with only slightly more hints of toasted oak, nutmeg, pine, and eucalyptus. This may be the most pineapple-y nose I've ever smelled. Unlike many other rye whiskeys, there's a lot more than just a wall of dill, licorice, and anise, although I really like that too. I'm repeating myself here, but this is a vibrant, lively, tropical, fresh, and fruity nose – it's great and I want more. I know 90 proof was probably intentional, but this could have been otherworldly at 110-120 proof, assuming the heat doesn't get too crazy.
Kooper Family Rye taste & aftertaste
Kooper Family Rye Whiskey is immediately black tea-like on the flavors with honey, licorice, anise, a lot of dry herbal notes – tea leaves, oak tannins, guava, dill and lemon. This may be the most tea-like rye whiskey I've had, and with minimal bite as well. This could be the perfect addition to sweet tea if you want to add some extra potency to your favorite summer drink without completely changing the flavors. With "chewing", Kooper Family Rye Whiskey again is sweet tea-like with honey, dried tea leaves, anise, pineapple, pear, vanilla, and a little oak tannin. With all the rye brightness and tropicalness, it also has some contrasting oakiness that's not very dark, but adds some dryness and malted grain. It all comes together into alcoholic lightly sweetened sweet tea with added pineapple juice. 
The finish is also sweet tea-like with lightly sweet honey, oak tannin, lemon, pineapple, licorice, and dried tea leaves. After "chewing", the finish is similar but a little more tannic, making it even more apparent that it has the same drying sensation of black tea. While there's a budding list of delicious and interesting flavors already in Kooper Family Rye Whiskey, there isn't quite that oomph and body that I look for in a great rye whiskey. It's still very good right now, but it could use more time in the Texas heat to develop more sweetness and depth, as well as a higher proof, to bulk it up into something amazing.
Place on the Whiskey Shelf

Kooper Family Rye Whiskey does a lot well and takes on a completely different personality than Sweetheart of the Rodeo Bourbon. It's not as burly and intense as Sweetheart of the Rodeo, instead it's a more gentle, herbal, tropical, fruity, and sweet tea-like whiskey that wins with more subtlety, vibrance, and pineapple (yum). The nose is impressive and inviting, loaded with vibrant herbal rye and tropical fruits notes. I certainly would like it to be bigger and richer, but it already carries itself well at 90 proof. More proof though please. 
The flavors are also enjoyable, but don't quite reach the level that the nose promises. It's not that the flavors are weak, they just lack some of that richness and wow factor that's in the nose, and I really hoped for more. I know, I'm greedy. The best parallel I can make is that Kooper Family Rye Whiskey is like baking a loaf of rye bread – it already smells incredible in the oven but the bread itself needs a little more bake time before it's done. I do like the unique sweet black tea and pineapple forwardness that's way more prevalent here than it is in other rye whiskeys and makes this more interesting than Rittenhouse Rye and Old Forester Rye, both rye whiskey staples. This is very good, so clearly a more widely released cask strength version is in order.