kooper family prodigal son bourbon review
Kooper Family Prodigal Son Bourbon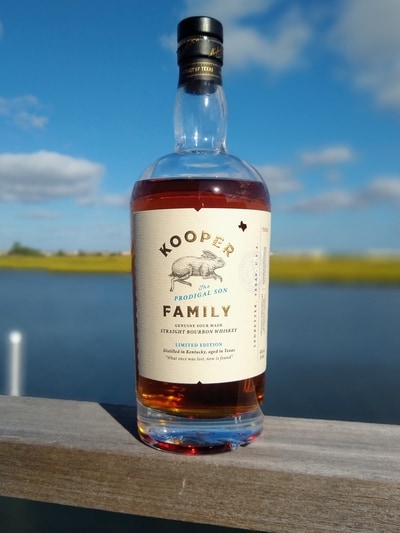 From the Kooper Family website:
"Distilled in Kentucky and aged in the warm winds of Central Texas. A one of a kind, complex harmony of flavor in this extra limited-edition Bourbon. When we got the chance to grab a small amount of this column distilled bourbon distillate from Bardstown Kentucky, we jumped at it. Slowly maturing genuine Kentucky sour mash in the powerful and moody Texas climate is an inspired combination. We filled five barrels and waited patiently. The results blew away our best expectations."
kooper family prodigal son bourbon overview
Alright, time for Kooper Family's brand new whiskey release – Kooper Family Prodigal Son Bourbon. With this distillery-only release, Kooper Family sourced Heaven Hill distillate (they won't say it by name but the mash bill gives it away) and aged it for 4 years in the intense Texas heat. This is only the second bourbon to be released by Kooper Family, the first being Sweetheart of the Rodeo Bourbon, a 4 year old bourbon from MGP-sourced distillate and aged in Texas. Any new bourbon release is exciting, so let's become familiar with this limited release in this Kooper Family Prodigal Son Bourbon review.
*Thank you to Troy and Michelle Kooper for generously sending me this bottle. All opinions are still my own.
kooper family prodigal son bourbon smell
That Heaven Hill grassy nuttiness comes through first followed by bubblegum, caramel, vanilla, starfruit, grilled peaches, and a few spritzes of fresh orange and a little smoked grain, thyme, and mint. There's more rye influence here (starfruit, thyme, mint) than there usually is with the Heaven Hill mashbill, probably coming from the Texas aging. Given the 43% ABV, there isn't much heat, but it also takes away from the nose. The nose is still quite complex though and layered in a way that's different than Elijah Craig (not as dark) or Evan Williams Bottled and Bond (not as much buttercream), which is to say that it still smells quite good.
After swirling, Kooper Family Prodigal Son is a little less nutty, letting the caramel, vanilla, banana, cotton candy, smoked peaches, dried citrus peel, starfruit, oak, and cinnamon come through a tad more with just a little cherry and thyme. There's a light wood smokiness to it as well as the Heaven Hill dry peanut shell scent. I'm struggling to describe it, but the nose has a delicate subtlety to it that may be from that extra dose of fruit that takes me back to Elijah Craig 11 Year Single Barrel. Prodigal Son isn't harsh at all and doesn't have any of that peppery, cardboard-y, or bready youth to it. There's also just enough banana here that it smells like a better Old Forester 86 Proof, but not quite Whiskey Row level though. The nose pulls me in a lot of directions, but in a good way, so this is a fun nose to smell.
kooper family prodigal son bourbon taste & aftertaste
Kooper Family Prodigal Son Bourbon starts with sweet caramel, vanilla, roasted oak, cinnamon, licorice, malted grains, pumpernickel, and rosemary with a spritz of orange and grated orange peel. There's some of that Brown Forman banana as well, again reminding me of a more flavorful Old Forester 86 Proof, with the same minimal bite. The good news is that Prodigal Son is pleasant to drink, but it's not quite as flavorful as it is fragrant.
After "chewing", I taste the same sweet caramel, vanilla frosting, roasted oak, cinnamon, licorice, malted and roasted grain, banana, orange peel, herbal thyme, and a sprinkle of cracked black pepper. That banana continues to scream Brown Forman, and in a blind review I'd be easily persuaded into thinking it wasn't from Heaven Hill. Compared to the nose, which is more fruity and gentle, Prodigal Son's flavors are a little more oaky, spicy, and dry. Ultimately, the flavors are good, but I'm not wowed by them and it feels like something is missing.
The finish has a mix of caramel and vanilla followed by smoked wood, smoked grains, and licorice. Banana cream appears after a minute with a sprig of mint, and becomes more banana forward as everything else fades. Post-chewing, the finish is sweet, minty, and lightly oaky with not quite fully ripe banana. It also comes off like a lightly burnt vanilla cream with a slice of banana, sprig of mint, and grated orange peel. The banana grows over time as well. It's a pleasant finish for sure.
Place on the Whiskey Shelf

Kooper Family Prodigal Son bourbon is good, but I'm not as high on this one as I am with Sweetheart of the Rodeo Bourbon, which is also 4 years old but sourced from Indiana. The nose is really quite fragrant with a nice blend of roasted sugars and vanilla, fruit (including banana), smoky wood, nuttiness, and spice, but the flavors can't quite maintain that momentum and fall a little flat as a result. The delicate fruitiness often gets covered up by the caramel, oak, spice, herbal and roasted rye, and banana, taking away from the complexity. The nose is a strong "Mid Shelf+", but the flavors aren't quite there.
Kooper Family Prodigal Son reminds me of a richer Old Forester 86 Proof Bourbon, with the banana in the scents and flavors really pulling me in the Old Forester direction. I am admittedly a proof snob and think this would have been better at 100 proof, but I'm sure there's a reason why Kooper Family went even lower than their normal 45% ABV. To be honest though, I'd pick Sweetheart of the Rodeo Bourbon over Prodigal Son for its extra richness and fruitiness, but Kooper Family Rye is still my favorite. I had interesting "whoa" moments with both of those whiskeys, but Prodigal Son hasn't done that for me. In the end, Prodigal Son is good and I'm going to enjoy drinking the rest of this bottle, but it doesn't quite do enough for me to give it anything more than a "Mid Shelf" rating.