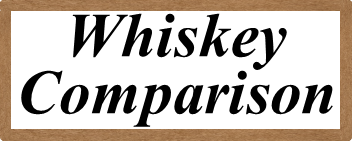 Knob Creek Single Barrel vs
Old Forester 1920 Prohibition Style
     When I reviewed Old Forester 1920 Prohibition Style, I couldn't help but be reminded of Knob Creek Single Barrel. Both are nearly cask strength bourbons from historic distillers, Knob Creek from Jim Beam and Old Forester from Brown Forman, that cater to bourbon lovers. Knob Creek Single Barrel is one of my longtime personal favorites and one of the best "values" on the market, while Old Forester 1920 is a newer bourbon from the highly regarded Whiskey Row series, aimed at recreating bourbons from various periods. In this case, the 1920 recreates their bourbons made during Prohibition. Both bottles have been open for over 2 months and I let each glass rest for 20 minutes, so let's get to the Knob Creek Single Barrel vs Old Forester 1920 comparison.
     The below table outlines key facts and figures for each bourbon.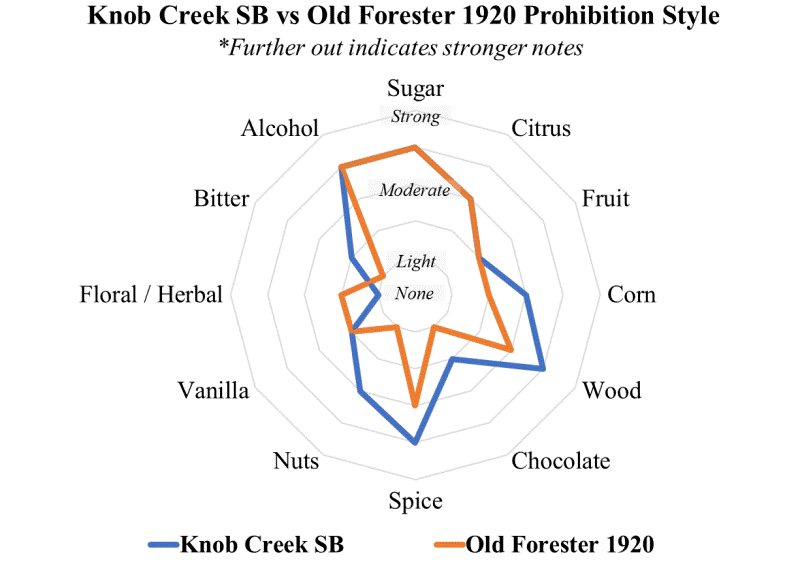 How to Read the Chart 
     Knob Creek Single Barrel is in blue, and Old Forester 1920 is in orange. The center of the circle indicates none of a trait. Further out the line indicates a stronger presence of that trait. 
The scale (from inside to out):
     – None
     – Light
     – Light-Moderate
     – Moderate
     – Moderate-Strong
     – Strong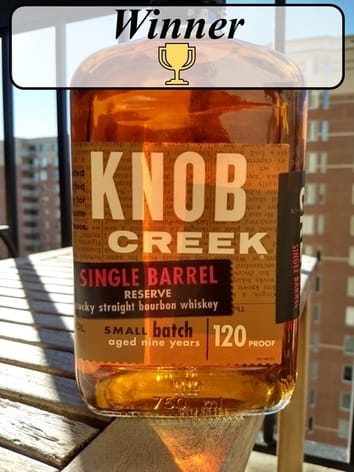 Knob Creek Single Barrel and Old Forester 1920 are very good yet different bourbons. The chart can't fully capture it all, but this direct comparison shows that Knob Creek Single Barrel is the superior bourbon for me. It's an absolute steal. 
     Knob Creek is a dark and dense whiskey, full of brown sugar, nuts, spices, dried dark fruits such as cherries and dates, cocoa, and wood that coat my mouth in oils and tannins. It's an interesting bourbon that feels mature and complex. 
     Old Forester is surprisingly bright in comparison, filled with honey, vanilla, mint, freshly cut pine, and lighter fruits such as apple, peach, and lemon, mint, and freshly cut pine. While there are notes of nuts, charred wood, and spice, they pale in comparison to Knob Creek. It's thinner mouthfeel and more alcohol-forward nature, contributing to the bright and effervescent sensation that also emits a stronger malt and dough scent, reinforces Old Forester 1920's relative youth. 
     I'm definitely buying more Knob Creek Single Barrel in the future.