jameson 12 distillery reserve
Jameson 12 Distillery Reserve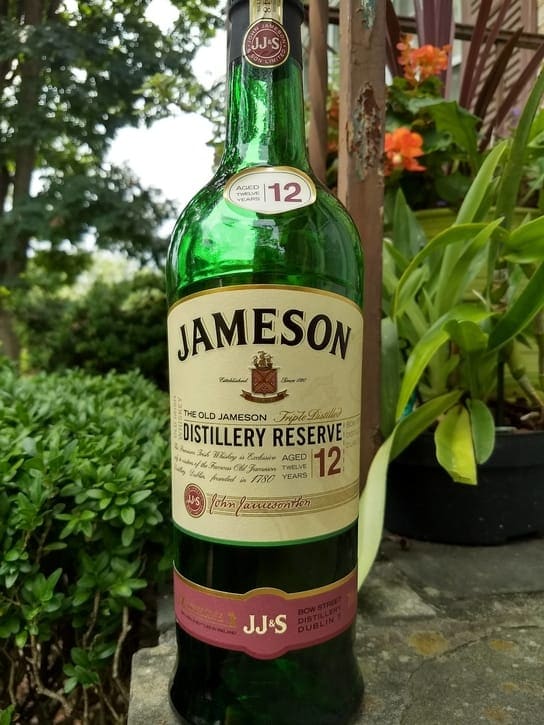 Distillery: Jameson
Type & Region: Irish Whiskey, Ireland, Europe
Alcohol: 40%
Composition: Unknown blend of barley and neutral grain spirits
Aged: 12 years, mix of ex-bourbon and ex-sherry barrels
Color: 0.8/2.0 on the color scale (auburn, polished mahogany)
Price: $60-70 MSRP (700mL)
From the Difford's Guide website:
"This 12 year old bottling is only available to those who visit the Midleton Distillery in County Cork or the old Bow Street Distillery in Dublin. It's a whiskey that represents pretty much everything produced at Midleton and is blended from a wide range of pot still and grain whiskeys.
The grain whiskey used is mostly matured in first-fill bourbon and this is blended with three styles of pot still whiskey, known at the distillery by the codes LPN, MMP, and MP4. These pot still whiskeys are mostly aged in first fill bourbon barrels with some first fill sherry butts contributing a lot of this blend's character."
jameson 12 distillery reserve
     Jameson is one of the world's most popular whiskey brands. There's a high likelihood that you've heard, if not drank Jameson in your lifetime (even if you didn't know it). Even though Jameson is best known for the budget whiskey that bears its name, it does offer several higher-end products such as Jameson 18. This Distillery Reserve falls into the premium category.
     Jameson 12 Distillery Reserve is a special edition product that can only be purchased in Dublin at the Jameson Distillery or in County Cork at the Midleton Distillery, where all the distillation and aging happens. The main point of differentiation between this and base Jameson products, apart from the age statement, is the higher percentage of barley malt in the blend and less neutral grain spirits to enhance smells and flavors. I bought this bottle in 2014 during my visit to the distillery in Dublin. It was an awesome experience, and I was crazy enough to do it immediately after visiting the Guinness brewery. 
jameson 12 distillery reserve
     The nose initially is incredibly light and delicate, but more complex and potent than the 40% alcohol suggests. It's a fruit-forward Irish whiskey with the unmistakable and noticeable smells of cherries, dates, prunes, caramel, and honey from the whiskey aged in oloroso sherry butts. After the sherry notes, I smell lemon and green apple from the malted barley and bourbon casks, as well as hints of something floral and malty from the barley. Buried under all the fruit, there's the unexpected faint smell of creamy and savory buttermilk. It's a strange, yet not unpleasant smell.
     Vigorous swirling releases a little more vanilla, orange, honey, and walnuts, but the alcohol remains the same. Walnuts, and nuts in general, are a common scent in oloroso sherry and have carried over into this Irish whiskey. A gentle wood and caramel note also appears. After leaving the glass empty for a few minutes, light notes of musty wood and cocoa appear.
     The blend of sherry, bourbon, and malt remind me of a breakfast platter filled with various fruits, bread, butter, and other spreads. Jameson 12 Distillery Reserve's nose is very good, but not quite excellent, undone by the low alcohol content that hinders its full potential.
jameson 12 distillery reserve
     Just like the nose, the taste is light, smooth, and fruity. The sherry notes in the nose carry over to the taste, with a mix of dates, prunes, and honey, as well as raw cocoa powder from the malted barley. The honey and lemon flavors from the bourbon cask appear afterwards, with biscuit maltiness to finish. It all comes together like a small piece of bread covered in extra jam and just a little bit of honey for garnish. Strong swishing only marginally increases the alcohol and introduces a gentle black pepper and woody taste from the barrels. 
     The mix of sherry and bourbon-influenced flavors fade into woody pepper, dryness, and light citrus mixed with something floral and malty that stick to my mouth.
     The flavors are very good but not outstanding. It has so much potential, but it's held back by the low alcohol content (again). The forward, yet controlled sherry notes are a nice touch though. I really wish this is how the base Jameson tasted. 
jameson 12 distillery reserve
     This lighter Irish whiskey would pair well with lighter flavored foods such as gently seasoned chicken, fish, or pork dishes. It would also pair well with fruit desserts and custards, but nothing too heavy or spicy such as Indian food or barbeque.
Place on the Whiskey Shelf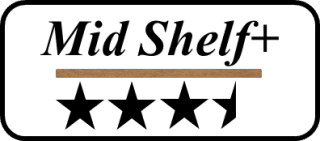 Jameson 12 Distillery Reserve has a strong foundation that is quite enjoyable, albeit too weak for its own good. There is a nice balance between sherry, bourbon, and malt that is appealing and mostly complex, but probably won't satisfy more experienced whiskey drinkers or those looking for something more intense and interesting. To put it figuratively, Jameson 12 Distillery Reserve has the underpinnings of a wonderful bouquet but ends missing quite a few flowers. 
     Like other distillery-only releases, you're likely not going to find this unless you go for a visit or happen to find an online store with a few in stock. Unfortunately, I don't think it's unique or interesting enough as a distillery special to warrant purchasing, even if you do go for a visit. I'd gladly drink but not buy this again. Instead, I recommend that you spend your money on something from Redbreast, such as Redbreast 12 Cask Strength, one of my personal favorites.
Comments are closed.