EH Taylor Single Barrel review
Jack Daniel's Tennessee Rye Whiskey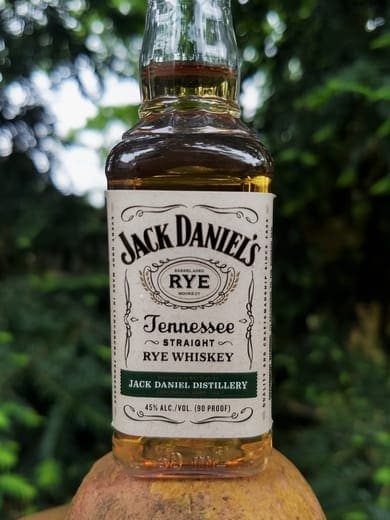 Distillery: Jack Daniel's (Brown Forman)
Type & Region: Rye Whiskey, Tennesee, USA
Alcohol: 45%
Composition: 70% rye, 18% corn, 12% malted barley
Aged: NAS
Color: 1.1/2.0 on the color scale (burnished)
Price: $20-30 MSRP (750mL)
From the Jack Daniel's website:
"Introducing rye whiskey made Jack's way. Crafted with our 70-percent rye grain bill, natural spring water from our own Cave Spring Hollow, and Jack's time-honored charcoal mellowing process, Jack Daniel's Tennessee Rye is a whiskey that could only come from Lynchburg, Tennessee. Master Distiller Jeff Arnett and the whiskey makers of the Jack Daniel Distillery have created a unique rye that's undeniably spicy and complex yet sippin' smooth. It might be one of our first new recipes in over 150-years, but if you know Jack, you'll know Jack Daniel's Tennessee Rye."
EH Taylor Single Barrel Overview
There's not much to say about Jack Daniel's Tennessee Rye Whiskey. Long story short, it's Jack Daniel's version of rye whiskey, swapping the 80% corn and 8% rye for 70% rye and 18% corn. While it trades the corn-heavy mash from the original Old No. 7 for a lot of rye, it still undergoes maple charcoal filtration for additional "smoothness". Let's get into this Jack Daniel's rye review to see if it's any good.
As an FYI, I bought and use these Glencairn glasses from Amazon for my reviews and comparisons (because they're the best): Glencairn Crystal Whiskey Glass, Set of 6, Clear, 6 Pack. Full transparency, this is an affiliate link, so I may earn a commission if you buy this or something else from Amazon.

EH Taylor Single Barrel Smell
Jack Daniel's rye quietly gives off light to moderate sweet and minty herbal scents with a little bit of pineapple. It's like minty pineapple juice drizzled in honey and caramel, but watered-down after letting it sit in ice for half an hour. On my first impression, Jack Daniel's Rye doesn't smell like much.
Sniffing further reveals something slightly creamy and milky, toasted bread, wood, apple skin, and unripe banana peel. Although the alcohol doesn't smell that strong, it still adds slightly rubbery and sour grain mash traits that detract from everything else, likely because there's not much else to cover it up.

Swirling makes it a little more interesting now with a little honey, maple syrup, and vanilla buttercream with some musty wood, peach, mint, menthol, and herbal grass, becoming a little sweeter as the liquid on the sides of the glass evaporate. I finally find a tad more of the rye character, but it's still not much. Rye whiskeys often remind me of chewing gum or fresh dill, but this does not.
With this little rye, anise, or anise to be found, is Jack Daniel's Rye really a rye whiskey?

EH Taylor Single Barrel Taste & Aftertaste
Jack Daniel's Rye is somewhat sweet and spicy as I expected with drops of honey, charred wood, vanilla, and anise. Small chunks of bread and a gentle nuttiness intermingle with everything else as well. The alcohol is hotter than I expected for 45%, primarily because there aren't enough flavors to counterbalance the alcohol.
"Chewing" doesn't do a whole lot. I still taste that same slightly sweet honey and vanilla with light mint and anise, immediately followed by a dab more wood and black pepper. It's kind of grassy, nutty, malty, and oddly hot on my tongue. With a thin mouthfeel and overall weak flavors, Jack Daniel's Rye is not particularly good or interesting. It's drinkable, but it lacks any character or personality that would make you choose to drink this.
The finish starts with a drop of honey, citrus, and drying oak tannins that turn into grass, anise, and cloves at the end. The finish is similar after chewing: still slightly sweet, but mostly there's lightly charred wood that transforms into anise, cloves, and peppercorns after the alcohol dissipates.

Whiskey is also for sharing, so I use Vivaplex, 12, Amber, 2 oz Glass Bottles, with Lids for smaller samples and Vivaplex, 12, Amber, 4 oz Glass Bottles, with Lids for larger ones. Full transparency – This is an Amazon affiliate link so I may earn a commission if you buy this or something else. Regardless, I actually use these myself.
Place on the Whiskey Shelf

Jack Daniel's Rye isn't terrible, but it's not particularly good either. It's plain boring, but because it's drinkable and not unpleasant, it gets a "bottom shelf plus" rating. The strangest thing is that high-rye rye whiskeys usually have a lot of mint, anise, and tropical fruits (e.g., WhistlePig 10 and Bulleit 12 Year Rye), but they're all completely lacking here. It just smells and tastes like young, cheap, and watered-down whiskey.
Instead, I strongly suggest that you look for comparably priced and much better rye whiskeys including Old Overholt Bonded, Rittenhouse Rye, Sazerac 6 (sometimes less than $30), and Knob Creek Rye just to name a few. There's definitely nothing wrong with liking Jack Daniel's Rye, but for me, this one is an easy pass.