The Glenlivet Nadurra First Fill Cask 2015 (FF2015)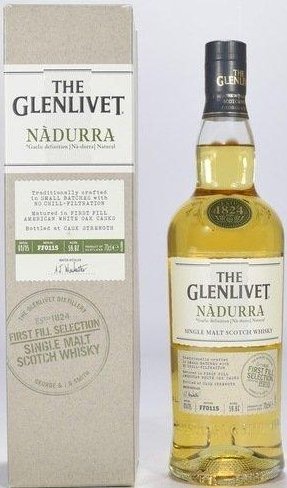 Distillery: Glenlivet
Region: Speyside, Scotland
Type: Scotch
Alcohol: 59.8%
Composition: 100% malted barley
Aged: NAS, aged in first fill American White Oak
Price: Purchased for $62 (on sale), normally $70-80
From the Glenlivet website:
"Nàdurra, meaning "natural" in Gaelic, is The Glenlivet's range of small-batch expressions made using traditional 19th-century techniques. The Nàdurra First Fill is drawn from casks made of American white oak which have never before been used to mature Scotch whisky. These oak casks, which distillers at The Glenlivet have favoured since the early 1900s, impart hints of creamy vanilla to this wonderfully rich single malt. You'll really taste the effects of that white oak, beautifully complemented by sweet pear, tropical pineapple, ripe banana and citric sparkle. This is a cask-strength single malt that represents the skill of our team and the tradition of The Glenlivet. And unlike most modern whiskies, this one is non-chill filtered, so it's very richly textured. It's an expression that will appeal to the intrepid whisky lover."
The Glenlivet Nadurra First Fill 2015 edition, one of the few cask-strength offerings on the market straight from a distiller (instead of an independent bottler), is a pretty unique scotch. The use of virgin american white oak barrels is also different, and generally reserved for aging spirits such as bourbon, rye, and American single malt whiskey. The Speyside region is also home to world famous brands such as the Macallan and Glenmorangie. As a rule of thumb, their whiskeys are rarely peated, but otherwise offer a variety of different flavors from aging in various types of casks. 
Given how it's described, I mistakenly thought it was aged in bourbon barrels. I've had experience with other Nadurra offerings, and all of them have been very good. I drank this neat and did not add any water at any point.
Given its lighter color, I honestly thought that this was aged in bourbon barrels, but it's not. My guess is that these virgin barrels were only gently charred as to impart a subtle color (and flavor), and not the deeper chars that make bourbon an amber, sometimes ruby color. On the color scale, it falls around a 0.5 (pale gold). It's a very pleasant color that belies how intense the alcohol and flavor can be.  
A very interesting, multi-layered, and balanced scotch. With the first smell, there are hints of peach, orange, and an underlying white sugar sweetness that reminds me of peach cobbler. The scents of stonefruit, citrus, and honey also remind me of white tea, a lighter flavor tea noted for its delicate floral and citrus taste. After the sweeter flavors, notes of dark chocolate and biscuit appear, akin to raw cocoa powder or dark chocolate cake. This smell is common, provided by the malted barley. Swirling the glass releases more of these sweet and savory flavors. 
Even though the Glenlivet Nadurra is nearly 60% alcohol, the alcohol smell is not as potent as expected, although longer sniffs may overpower the nose. This really smells like its aged in bourbon casks, so I'm not sure how aging it in virgin American white oak impacted the smell, but there's nothing to complain about. 
This is not a peated scotch, so there are no corresponding notes of smoke, dust, or the must of something old.
This really tastes like it smells. It's refreshing, delicate, and intense all at the same time. The initial sip leads with lemon and orange, mixed with honey. It again reminds me of eating a peach cobbler or drinking tea. On subsequent tastes where I let the liquid sit in my mouth for 10-15 seconds and slowly swallow it bit by bit, I taste a touch of rich, yet bitter dark chocolate cake that comes from the malted barley.      
All the while, the 59.8% alcohol makes sure that you know its there and kicks quite a bit in your mouth as it burns. I can tell that it's still a younger scotch with quite a lot of fury left in it. This one can be a challenge because some of the flavors take time to develop, and it can be difficult to overcome the alcohol intensity. It's enjoyable if you can overcome that burn. 


The aftertaste is quite long, with lingering oiliness that coats the mouth and a malty sensation of just having eaten bread.
Place on the Whiskey Shelf

This is a strong offering from Glenlivet, and I enjoyed it. There are notable and pleasant flavors to be had, as long as you can overcome the alcohol. Drinking this reminds me of sitting on a backyard porch while eating a peach pie and drinking white tea, while a chocolate cake is being baked in the kitchen behind you. The Glenlivet Nadurra is a young and intense, but if you take your time to approach it and get to know it, you'll be rewarded with layers of sweet and floral scents and flavors. It would benefit from a few more years in the barrel to help tame the alcohol intensity and add a little more flavor that could help take it to the next level. There is a discontinued 16 year variant, but it's difficult to find at this point.
In this price range, you're often comparing the Nadurra to 15-18 year offerings by other distilleries that are generally 40-46% alcohol, as well as cask strength offerings such as Aberlour A'bunadh, Ardbeg Uigeadail, and Laphroaig 10 Cask Strength that offer a variety of different flavors. Get the Nadurra First Fill if you want a more complex and sweeter drink that also has a nice alcohol kick lacking from lower-proof products. At $61 for the bottle, it was a great buy, and I hope you will enjoy it like I did.