George Dickel 14 barrel select review
George Dickel 14 Barrel Select (for MSL Barrel Team)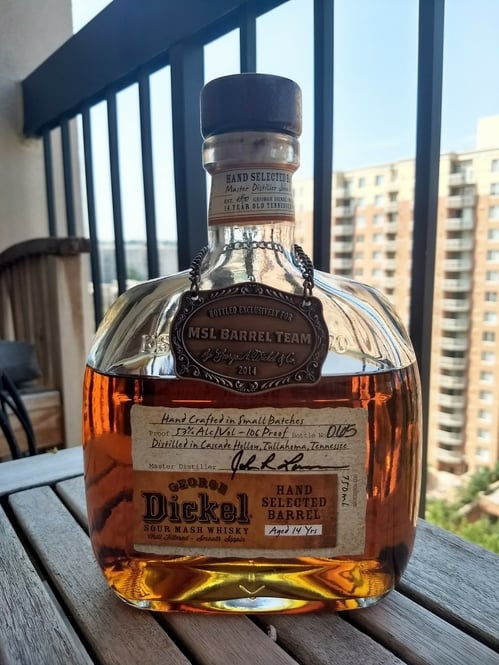 Distillery: George Dickel
Type & Region: Tennessee Whiskey, Tennessee, USA
Alcohol: 53%
Composition: 84% corn, 8% rye, 8% malted barley
Aged: 14 years, aged in virgin American white oak
Color: 1.4/2.0 on the color scale (mahogany)
Price: $50-60 MSRP (750mL)
From the back of the bottle:
"George A. Dickel & Co is very proud to offer you this special hand selected, handcrafted Tennessee whisky. We have carefully chosen a limited number of barrels to be sold one at a time to only our most discerning, loyal customers. These barrels hold our most precious, mellow George Dickel whisky at peak periods of maturation. We invite you to enjoy and savor this truly one-of-a-kind whisky."
George Dickel 14 barrel select review
     *I first want to give a shout-out to a good friend of mine who gifted me this bottle.
This version of George Dickel 14 Barrel Select is a Tennessee Whiskey hand selected and bottled for MSL (Market Square Liquors) Barrel Team in Florida. Compared to the standard Dickel No.8 and No.12, the Barrel Select line is their high-end blend of special barrels. This hand selected bottle goes one step further by being single barrel and cask strength. This then, can be considered the best that George Dickel has to offer.
Tennessee Whiskey, at a high level, is bourbon made in Tennessee so it still must be made from at least 51% corn and aged in virgin American White Oak barrels. The primary differences are that it must be made in Tennessee and must be maple charcoal filtered (also known as Lincoln County process) at least once prior to aging. This process is supposed to help mellow the alcohol and add flavor. Let's see if this is the case.
George Dickel 14 barrel select review
The first smell is so nice and calm, or "mellow" as George Dickel claims. There's a sweet mixture of maple, caramel, and vanilla. It reminds me of standing in a fudge shop while its being made, or smelling maple candy (if the candy was full of alcohol). Underneath the sweetness, there's moderate charred wood and grass, as well a little bit of cherry that complement the sweetness. The alcohol is subdued and allows the sugar and wood to shine. 
While this initially is a sweet-smelling whiskey with woody and floral notes, there's a beast hiding underneath. Once you swirl the whiskey, the alcohol beast is freed from its cage, absolutely overpowering the entire nose. It's very unpleasant and surprising.
Once the glass is empty and the beast is gone, the smell changes again. There are nice scents of wood with some grass, corn, honey, and vanilla frosting. After leaving the empty glass out for 10 minutes, musty wood appears.
I've never experienced a whiskey's smell change so drastically. The un-riled smells are quite nice, but it's difficult to smell after swirling. I thought I was going crazy, but pouring myself another glass and swirling it again led to the exact same result. A word of advice: don't swirl this, keep the liquid and the alcohol beast unprovoked.
George Dickel 14 barrel select review
The taste on my first sip (prior to swirling) is very smooth and mellow. There's initially moderate to strong tastes of caramel and roasted corn, followed by a gentle alcohol burn and some wood bitterness. There's also the ever so slight taste of syrup with a hint of dark fruit, as well as pre-distillation corn mash that tastes like slightly sour corn. Once I swallow, I immediately taste a light sweetness akin to cotton candy as it quickly disappears in my mouth.
The second taste, where I vigorously swish and let it sit in my mouth, is similar. There is sweet caramel and honey up front, but not overpowering, followed by peppermint and wood. I also sense some roasted apples with a little bit of cinnamon. The alcohol definitely has some kick and thickness as it rests in my mouth, reminding me that even though it's quite sweet, it's still an intense and spicy whiskey.
The aftertaste is pleasant. It's dry with moderate wood notes and remnants of peppermint candy. Thankfully, swirling doesn't change the taste. Overall, this whiskey tastes very good, but not excellent. It's an enjoyable whiskey with some great qualities. It just doesn't have anything particularly interesting that makes me think "wow" and want to give it a "Top Shelf" rating.
Place on the Whiskey Shelf

If you don't swirl the liquid, this whiskey is pleasant. Otherwise, you'll unleash the alcohol monster and ruin the smell. Apart from that, the problem is that I don't find it particularly special. It's quite good, but not excellent. The smells have a nice mix of sweet, spicy, and woody. The taste is also fairly rich and tasty, but they are all moderate and mellow. Overall, this bottle of George Dickel 14 Barrel Select is too mellow for its own good. This would be an appropriate drink to introduce someone to higher proof whiskeys, but is forgettable. 
I would drink this again, but I wouldn't buy this. There are other more compelling and interesting offerings that I would rather buy.