weller antique 107 review
Four Roses Single Barrel Private Select OESV (only from the Distillery)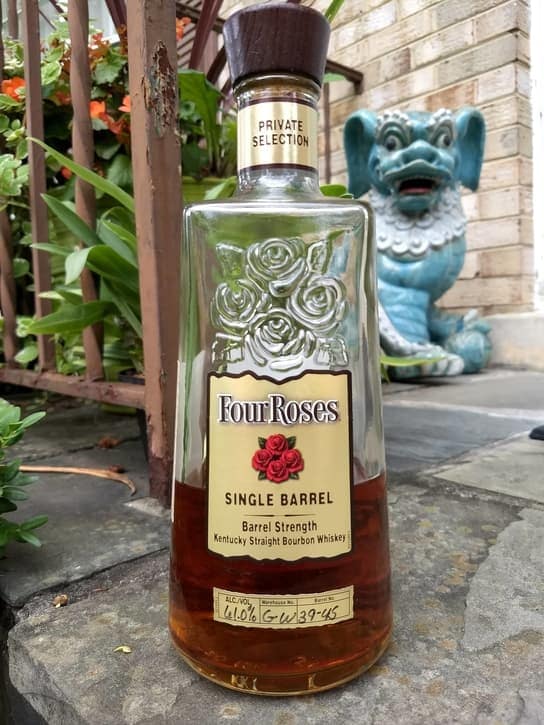 Distillery: Four Roses
Type & Region: Bourbon, Kentucky, USA
Alcohol: 61%
Composition: 75% corn, 20% rye, 5% malted barley, (OESV) Yeast = V for delicate fruit
Aged: 10 yrs 11 mo in virgin American white oak (opened in 2015)
Color: 1.2/2.0 on the color scale (chestnut, oloroso sherry)
Price: $80 MSRP (750mL)
From the back of the bottle:
"Specially Selected by Jim Rutledge, Master Distiller. This 10 year 11-month-old Bourbon was bottled exclusively for the Four Roses Gift Shops. Hints of brown sugar and apricot greet you on the nose while the palate is of light plum and maple with a touch of cinnamon. Finishing with a note of light coffee, pecan, and a nutty chew."
Four Roses Single Barrel Private Select review
*I'd like to thank my brother for acquiring this while in Kentucky for my Dad, and my Dad for letting me take a sample for this review.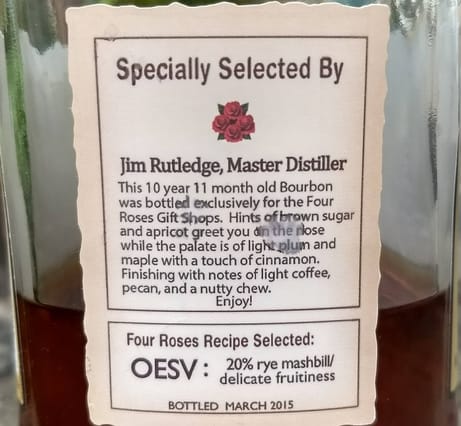 Four Roses is everywhere, even in bars and stores internationally, so if you're reading this, you've likely had one of their products before. This Master Distiller-selected (by Jim Rutledge in 2015) bottle of Four Roses Single Barrel Private Select can only be purchased at the Four Roses distillery in Kentucky, although you can buy "regular" single barrel private selects at stores across the US that were selected by the retailer or restaurant. 
I've been lucky enough to taste a number of Master Distiller-selected bottles over the years, and found each one very good and unique. I've also been able to taste the different combinations (OESV, OESK, etc) side by side, a great way to better understand how the combination of mashbill, yeast, and aging transform a bourbon, and how much influence distillers have over the end bourbon.
Four Roses Single Barrel Private Select review
This is a very pungent bourbon, starting with moderate scents of pear, cherry, and molasses that remind me of Coca Cola. The alcohol is also strong enough to emulate the carbonated fizzy smell that tickles my nose, strengthening that comparison. Underneath all that, there's a moderate nuttiness of just cracked-open peanuts and sawn wood. Taking a breather and diving back in, I smell dried orange peels as well as stronger caramel and honey sweetness with other citrus fruits I can't quite identify, all blended together by alcohol. It's like orange-infused honey you can make at home. Charred wood pokes occasionally through the other scents. Oddly, I don't smell much rye.
The nose changes a little after adding a few drops of water (more on this in the Taste & Aftertaste section). The alcohol becomes slightly tamer, allowing for new scents to appear such as candied cherry and vanilla buttercream. As the liquid subsides, I start to get strong musty wood and tobacco scents that weren't there before, all lying on top of the Coke foundation. Once the glass is empty, I finally start to smell dried corn and corn mash, as well as peppermint and a dash of cocoa.
This bourbon smells incredible. The 10+ years of aging did a great job infusing the darker cherry, citrus, and molasses flavors that you can't rush. Even with the stronger alcohol smell, all the scents blend together nicely and are strong enough to counterbalance it most of the time. The alcohol can take over from time to time, but overall smells wonderful.
Four Roses Single Barrel Private Select review
The first drops of liquid in my mouth unleash a surge of flavor followed by another surge of alcohol. From what I could taste, before my palate become utterly overwhelmed, was something akin to Coca Cola, with cherry, molasses, and vanilla, as well as a fizzy-type sensation from the alcohol. Taking a moment to catch my breath and my wits, the second round of tasting reveals more flavors and complexity. It has a wonderful body from the alcohol, as well as that same Coke taste, and a nutty and savory taste that I can't quite identify. My mouth is getting absolutely manhandled by the alcohol, I have to add water.
Adding water tones-down the alcohol a little and allows a little more breathing room for the more delicate flavors to appear. Now I can taste more grassy and floral flavors, peach, and orange, as well as a hint of peppermint and tannin bitterness. 
No surprise, the aftertaste begins with tingling from the alcohol that fades into light caramel, wood, grass, and bitterness. With water, the aftertaste now has some black pepper spice that further tingles my mouth. This is very intense. The first sip of this Four Roses bourbon is like taking your first sip of soda in years: the flavors are intense, and the carbonation (instead of alcohol) can feel almost overwhelming as the bubbles attack your entire mouth. 
Place on the Whiskey Shelf

I'll get this out of the way first: this is one of the hottest bourbons I've ever tasted. It has an absolute fury that even shocked and overwhelmed me at times. It's hotter than the 62.5% unaged Buffalo Trace Mash #1 and 63.2% Stagg Jr (batch 10). The whiskey Gods really wanted to rage war on our weak human palates. It's rare that I actually have to add water, but I admit that it was necessary to see what was hiding underneath.
With that said, you're in for one heck of a ride. I still don't recommend ice (in fact I never do) because you can't control how fast / slow the ice melts. Slowly add a few drops of water, taste, and then decide if it needs more water. This bottle of Four Roses bourbon has an incredible volume and depth of flavors, they're just slightly overshadowed by the alcohol. I still happily give it a "Top Shelf" rating, but just like the Stagg Jr., the only thing really holding this back is the alcohol's ultimate fury (and it's even more furious than Stagg Jr).
Every expression of Four Roses Single Barrel Private Select is different, so while all the other expressions are great, this review only covers this specific bottle. Even ones with the same OESV designation will likely be different, but the point is to keep exploring.