weller antique 107 review
Fighting Cock Bourbon Review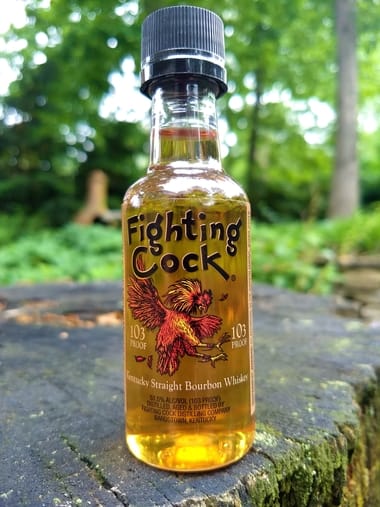 Distillery: Heaven Hill
Type & Region: Bourbon, Kentucky, USA
Alcohol: 51.5%
Composition: 75% corn, 13% rye, 12% barley
Aged: NAS (no longer 6 years)
Color: 1.1/2.0 on the color scale (burnished)
Price: $15-20 MSRP (750mL)
From the Heaven Hill website:
"The bad boy of Bourbon is bottled at a robust 103 proof, but its 6 years of aging [it is now NAS] smooth out the feathers real well. Through award-winning packaging and point-of-sale, and a unique and irreverent marketing campaign, Fighting Cock appeals to both male Gen X-ers and serious Bourbon lovers alike.
The "kickin' chicken" has been a favorite throughout the South for years."
EH Taylor Single Barrel Overview
There honestly isn't a lot of information out there about Fighting Cock Straight Bourbon. From what I could find, Fighting Cock is made by Heaven Hill, also the makers of Evan Williams, Elijah Craig, Parker's Heritage, and more. Strangely, the Heaven Hill Distillery website doesn't mention that they create Fighting Cock Bourbon. I had to dig around the internet to find an out of date page on the Heaven Hill Brands website that mentions that Fighting Cock is still 6 years old. The bad news is that it actually hasn't been 6 years old for a few years, yet another casualty of the whiskey boom. While it may be an afterthought on the website, let's find out about the bourbon inside the bottle in this Fighting Cock Bourbon review.
Heaven Hill Lineup of Reviews
EH Taylor Single Barrel Smell
Fighting Cock Bourbon starts with floral, grassy, and nutty scents, followed by the expected honey and caramel, a telltale sign of Heaven Hill bourbon. The sweetness coming second is a little unusual, but not necessarily bad. After the initial wave, I get freshly sawn wood with lingering wood particles in the air that intermingle with dusty roasted corn mash. It's like cutting fresh lumber in an old wooden warehouse while making bourbon mash. Even with those descriptions, it's not overly woody and thankfully doesn't smell hot. 
Swirling brings out a little more alcohol. I again smell some caramel and vanilla with charred wood, but the wood is light. It's entirely possible that most of the barrels came from the lower levels of the warehouse where temperatures fluctuate less, so the bourbon doesn't end up as woody. There's slightly sour and musty corn mash, as well as faint hints of citrus and eucalyptus. Fighting Cock has the same floral, herbal, and nutty scents that I find in many Heaven Hill whiskeys such as Evan Williams BIB and Larceny Wheated Bourbon, sort of like slightly sweet peanut butter and caramel nougat.
EH Taylor Single Barrel Taste & Aftertaste
Fighting Cock comes forth with honey, caramel, and vanilla sweetness mixed in with a little cherry, followed by moderately charred wood and dark cocoa powder. The floral, grassy, and nutty notes from the smell shockingly don't come through to the taste. Overall it really doesn't taste that bad, but it's also too light to be good. The alcohol, for 103 proof, is also controlled for a likely very young bourbon (but at least 4 years old since it's labeled as straight bourbon and without an age statement).
Chewing brings out a little more sweet honey and caramel with vanilla, chocolate, cherries, and red apples. The moderately charred wood dances around as well with cinnamon and nutmeg while the alcohol remains well controlled. Fighting Cock is best described as balanced. It's neither bright nor dark, neither overly sweet nor bitter, but the flavors lack any depth or richness to make it interesting or worth drinking.
The finish is a little sweet with honey and apricot with a sprinkle of peanuts, cocoa, and mint. Chewing brings out a gentle alcohol tingle that turns into light oak bitterness, a dab of peanut butter, honey, mint, and corn on the cob. 
Place on the Whiskey Shelf

Fighting Cock is a decent, almost good, bourbon. I like the floral, herbal, and nut forward qualities that are complemented with vanilla, cocoa, and a dab of fruit, but the scents and flavors overall are so light and underdeveloped that even 103 proof can't overcome it. It's obvious that Fighting Cock is young, cheap, and in dire need of the age statement. Thankfully the alcohol is surprisingly well controlled and doesn't make it worse. The best compliment I can give is that if I didn't have any other options, I'd drink Fighting Cock over Jack Daniel's Old No. 7.
There are a number of better alternatives for around $15-20. This includes Heaven Hill's other whiskeys such as Evan Williams Bottled in Bond and Rittenhouse Rye, as well as Jim Beam Distiller's Cut and Buffalo Trace. Unfortunately, Fighting Cock Straight Bourbon is a complete afterthought. I don't recommend buying it, but you can do worse.
Comments are closed.