weller antique 107 review
Elijah Craig Small Batch VABC 11 Year Single Barrel Pick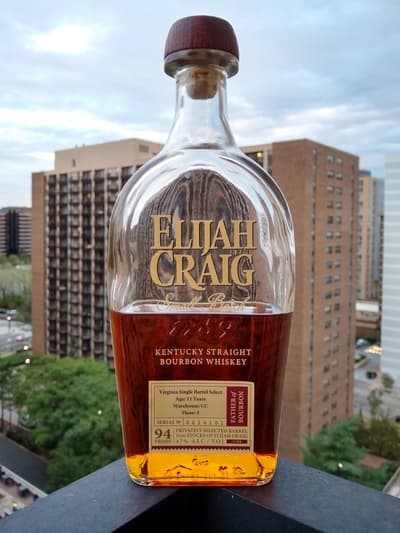 Distillery: Heaven Hill
Type & Region: Bourbon, Kentucky, USA
Alcohol: 47%
Composition: 78% corn, 10% rye and 12% malted barley
Aged: 11 years in virgin American oak (single barrel pick)
Color: 1.2/2.0 on the color scale (chestnut, oloroso sherry)
Price: $30 (750mL) for this specific barrel pick
From the Heaven Hill website:
"The signature Bourbon bearing the name of Rev. Elijah Craig, a Bourbon pioneer who is credited with being the first distiller to age his whiskey in charred oak barrels. Long before the term Small Batch even existed, our Master Distillers were hand-selecting just the right number of barrels to make Elijah Craig. This expertise and attention to detail give Elijah Craig Small Batch the right balance of rich flavor and full body. Each small batch carries a signature warm spice and subtle smoke flavor. A combination that belongs in any Bourbon fan's regular rotation."
weller antique 107 overview
For a while, Elijah Craig "Small Batch" was the only barrel pick you could get from Heaven Hill, but starting in late 2019, Larceny was added to the menu. A tangent, but I don't know why there aren't Evan Williams, Henry McKenna, Heaven Hill Bottled in Bond, or Old Fitz picks. Now in Summery 2019, Virginia received (most likely requested, not personally picked) 4 barrels of Elijah Craig: 8, 9, 10, and 11 years old. I was lucky enough to pick up 2 bottles of the 11 year, not because I know it's good, but because why not?
The first bottle of bourbon I ever bought was the now discontinued Elijah Craig Small Batch that was 12 years old (RIP high age statements on accessible bourbons). Given that the normal small batch is now NAS, I've been itching to find older barrel picks of Elijah Craig that come close to the old blend. In my first Elijah Craig barrel pick review, I reviewed the Montgomery County DLC 8 Year, which was good, but often too hot. In this Elijah Craig 11 Year VABC barrel pick review, let's find out if extra aging gives this bourbon a boost. 
When I first opened this bottle of Elijah Craig 11 year, scents of dark and rich guava and starfruit, likely from the rye, were very evident, just streaming out of the glass. Those were amazing and mesmerizing notes that left a wonderful first impression, but sadly mostly dissipated after an hour after the bottle was opened.
At the time I'm doing this review, I smell primarily brown sugar, caramel, oak, and bitter chocolate followed by anise, licorice, vanilla, cinnamon, musty corn, and ripe peach. There's a lot to sift through on the nose, so it's still a nice nose. The alcohol is really strange though. It ebbs and flows between being quite strong to docile, all within 30 seconds. Even after 40 minutes of letting it rest, it still needs more time to mellow.
Swirling kicks up the alcohol again, but waiting 30-40 seconds gives it just enough time to calm down. Now I smell bright candied oranges with brown sugar, mint, and caramel corn. Digging further reveals marshmallows, bread, and smoked wood, sort of like a lightly smoked vanilla frosted pancake. Interestingly, the signature Heaven Hill nuttiness that I find in Larceny and Evan Williams Bottled in Bond are very subdued in this Elijah Craig pick. This has a good nose, but it could have been so much more if those amazing guava and starfruit notes had remained. 
weller antique 107 taste & aftertaste
This Elijah Craig 11 Year Barrel Pick tastes so much better than it smells. The flavors have dense and sweet honey, caramel, and vanilla with licorice, mint, cinnamon, and oak. It's not particularly unique, but still delicious and interesting. Unlike the nose, the alcohol is actually quite docile in the flavors.
"Chewing" brings out the full experience with rich caramel and honey with vanilla, candy corn, anise, grapefruit, cinnamon, nutmeg, and a spoonful of slightly bitter cocoa powder and oak. The rye-based herbal anise sweetness starts to come through as well, a nice addition to the flavors. There's actually a nice spread apples, peaches, cherries, and citrus fruitiness in the flavors that are very enjoyable and add to Elijah Craig's depth and complexity. Given its 11 years of aging, it's certainly contains a spicy kick with cinnamon, nutmeg, and anise, but I wouldn't consider it as strongly spicy as Knob Creek Single Barrel bourbon, although Knob Creek's higher proof also factors into that. It's a little nutty towards the end as I swallow the bourbon, but it's still one of the least nutty Heaven Hill bourbons that I've ever smelled or tasted. Unlike the nose, the alcohol consistently stays out of the way.
The finish is sweet with honey, herbal anise and mint, and bitter with wood and dark chocolate, all fading into dried citrus peel and oak. With "chewing", the finish is slightly sweet with honey yet bitter with dark chocolate, supported with a little anise, cinnamon, dried orange, cherry, oak, and alcohol that leave a nice tingle in my mouth. This Virginia ABC 11 Year old Elijah Craig Single Barrels is a great bourbon from start to finish. 
Place on the Whiskey Shelf

This Elijah Craig 11 Year Old Single Barrel is a strange yet delicious bourbon. It takes me on this rollercoaster ride where the scents are all over the place, fluctuating between intense heat, rich, and calm, but the flavors, where it really counts, are wonderfully sweet, spicy, herbal, oaky, and mature. It's very perplexing and impressive all at the same time. This 11 year old Elijah Craig VABC Single Barrel is not quite "Top Shelf" bourbon, but I enjoy drinking it nonetheless. The scents and flavors are a major upgrade from the 8 year old Montgomery County DLC pick, which is a little too hot all around. Age isn't everything, but the 3 extra years makes an amazing difference in this case. 
I'm glad that I bought 2 bottles on a whim, because there's still a lot for me to unravel in this Elijah Craig 11 Year Old Barrel Pick and I won't feel too guilty finishing it. The main takeaway here is that older Elijah Craig barrel picks likely are great values, especially for under $30-35. If I find another 10+ year old pick, I'll likely buy at least one because it's so tough to find 10-12 year old bourbon for under $40 these days.