weller antique 107 review
Elijah Craig Small Batch Montgomery County DLC 8 Year Barrel Pick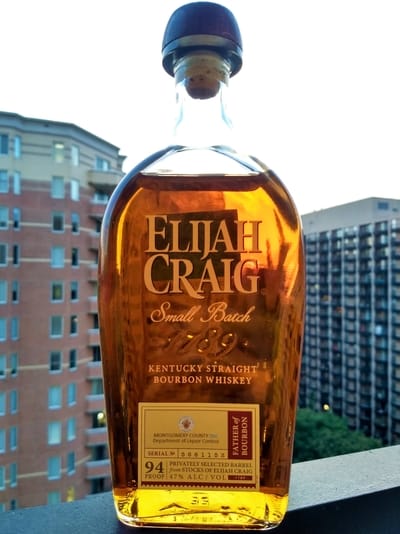 Distillery: Heaven Hill
Type & Region: Bourbon, Kentucky, USA
Alcohol: 47%
Composition: 78% corn, 10% rye and 12% malted barley
Aged: 8 years in virgin American oak (single barrel pick)
Color: 1.2/2.0 on the color scale (chestnut, oloroso sherry)
Price: $26 (750mL) for this specific barrel pick
From the Heaven Hill website:
"The signature Bourbon bearing the name of Rev. Elijah Craig, a Bourbon pioneer who is credited with being the first distiller to age his whiskey in charred oak barrels. Long before the term Small Batch even existed, our Master Distillers were hand-selecting just the right number of barrels to make Elijah Craig. This expertise and attention to detail give Elijah Craig Small Batch the right balance of rich flavor and full body. Each small batch carries a signature warm spice and subtle smoke flavor. A combination that belongs in any Bourbon fan's regular rotation."
Elijah Craig 8 Year Single Barrel overview
Elijah Craig Small Batch is part of the Heaven Hill line of bourbons that includes Evan Williams, Larceny, Henry McKenna, Parker's Heritage, and Old Fitzgerald. I won't go into the history of Elijah Craig, but I can tell you that "Small Batch" is a vague term with no regulated number of barrels attached to it. Small batch doesn't make a whiskey better or worse, it just exists as marketing lingo to vaguely describe how a whiskey was made.
This review specifically covers the Elijah Craig Montgomery County DLC 8 Year single barrel pick with serial #5661152. While the label doesn't state the age, I wrote down the details so I wouldn't forget because they also were selling a 9-year single barrel pick that I also purchased. This Elijah Craig store pick, like all Elijah Craig store picks, still has "Small Batch" on the bottle because it's easier to use the same bottle and put a unique label on it. Anyways, onto this Elijah Craig Montgomery County DLC 8 Year Single Barrel review to see if this single barrel stands out from the norm.   
Elijah Craig 8 Year Single Barrel smell
Elijah Craig Small Batch 8 Year Barrel Pick quickly starts with sweet honey roasted peanut butter surrounded in hay and wood. It definitely has that quintessential Heaven Hill bourbon floral nuttiness that Evan Williams Bottled in Bond, Larceny, and Parker's Heritage 11 Year have, and it's not shy about it. At the same time, the alcohol stays up front and embeds itself into every part of the nose. It's not overpowering, but it doesn't always meld well with everything else. Underneath the honey roasted peanut butter and alcohol, I smell a blend of mint, cinnamon, cocoa, slightly smoked wood, corn mash, vanilla-y bubblegum, and little bit of orange rind, peach, and fried tortilla chip. There's a lot happening all at once. 
Swirling brings out the same caramel and honey with hints of vanilla buttercream while the nuttiness gives way to a lightly spiced and burnt breadiness. The alcohol and mint meld to form a light yet constant tingling Vick's Vaporub-type eucalyptus and menthol sensation that creates a gently fresh scent. I really notice that this Elijah Craig barrel pick isn't nearly as dark or root beer-y as Evan Williams Bottled in Bond, but it's still pretty good.
Elijah Craig 8 Year Single Barrel taste and aftertaste
On my first sip, I taste sweet and nutty honey with gentler grassy cherry and orange notes, although the nuttier notes taste lighter than they smell. There's a woody, but more so spicy, presence with some underlying tortilla chip and a potent alcohol kick that's not quite overpowering. I also notice an interesting savory note, but I can't quite identify what it is. It may just be more of that rich honey roasted peanut butter and spice.
"Chewing" brings out the same sweet caramel, brown sugar, and grain, but now with a little more vanilla buttercream, citrus, cherry, and peach. There's still that faint nuttiness, but with more cocoa and oak that show up quickly after the sweetness and carries throughout the flavors. A light floral and minty character follow behind, propelled by the alcohol. Blind, I would think that this Elijah Craig 8 year barrel pick had 50-55% alcohol because it's hotter than Evan Williams Bottled in Bond at 50%.
The finish starts with a blend of honey roasted peanut butter with slightly grassy and bitter oak, and mint. "Chewing" brings out more sweet corn with a splash of buttercream on top, a little bitter oak, mint, and lingering alcohol. It becomes more minty after a minute and eventually fades into lingering cocoa. The finish is actually very interesting and continually evolves over time. 
Place on the Whiskey Shelf

There's a lot to like about this good Montgomery County 8 Year Old Elijah Craig Barrel Pick, but it's frequently held back by a little too much heat that doesn't always meld well with the nose and palate. While it's fairly rich, punching above its 47% alcohol and leaving an interesting finish, this Elijah Craig doesn't have quite the depth or character to propel it to Evan Williams Bottled in Bond or Larceny's "Mid Shelf+" level. In fact, Evan Williams and Larceny have comparable proofs to Elijah Craig yet are not nearly as hot. I would have loved to find more interesting sugar and fruit notes in Elijah Craig that I've found in other Heaven Hill whiskeys.
It may not be one of the best picks, but I still enjoy drinking this Elijah Craig 8 Year single barrel, especially at $28 after tax. I'm not sure how much better or worse this is than the regular Elijah Craig Small Batch, but I will get to that comparison to highlight how barrel selection matters. From this review, I've learned that I'll definitely continue to buy Elijah Craig store picks, but you're not missing out if you didn't buy this particular one.