Kirkland 24 Blended Scotch Whisky​ review
Douglas Laing Craigellachie 21 (DL11496)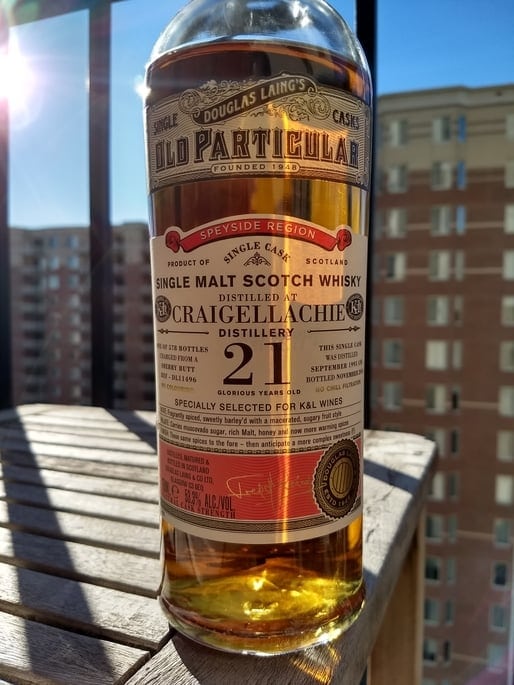 Distillery: Craigellachie
Type & Region: Scotch, Scotland, UK
Alcohol: 53.3%
Composition: 100% malted barley
Aged: 21 years in a single Sherry Butt (single cask)
Color: 1.0/2.0 on the color scale (deep copper)
Price: $85-90 MSRP (750mL)
From the Company Website:
"Douglas Laing & Co was established in 1948 by Fred Douglas Laing, affectionately known by those in the trade as FDL. Over 65 years later, Douglas Laing is still a proud family-owned business. Only today it's headed by Fred's Son – also Fred – and his granddaughter, Cara. Together, we bring you Douglas Laing's Old Particular Single Cask Selection – a 'particularly' sought after range of individually-selected Scotch Whiskies from all over Scotland – each bottled the FDL way"
Four Roses Single Barrel Private Select review
*Shout-out to my buddy who gifted this to me for my birthday
     I'll be honesty, I don't know much about Craigellachie, owned by Bacardi. All I know is that this is my first experience with the Speyside distillery located close to global brand names such as Macallan, Glenfiddich, and Balvenie, so I expect a similarly rich and enjoyable experience. 
     This also happens to be my first experience with Douglas Laing, an independent bottler like Cadenhead, Gordon & MacPhail, and Signatory Vintage. Click here to go to their website and learn more. This bottle of Craigellachie 21 is one of 578 bottles from a single cask specially selected for K&L wines. It was aged for 21 years in a sherry butt, a barrel about 2.5 times the size of a normal bourbon barrel, and bottled without chill filtration in November 2016. There are no additional details as to the type of sherry. Did K&L make a good choice? Let's find out.
Four Roses Single Barrel Private Select review
     The nose is immediately rich with dark and dense jam that's a mix of berries, plums, dates, oranges, and honey, as if it was aged in a 1st fill amontillado or 2nd fill oloroso cask. It's not nearly as pruney or intense to be from a first-fill Pedro Jimenez cask. There's a nicely balanced addition of dark and savory mulling spices and wood to contrast the fruit and honey sweetness, as well as graham cracker-like malt to reinforce that this is a single-malt Scotch. The 53.3% alcohol is noticeable and pungent, yet well moderated and never distracting. 
     Vigorous swirling allows a slight musty grape funk to arise, as well as an extra kick of wood spices and a tiny bit of vanilla, chocolate, and something floral. There's also a moderate apricot, grape, and dark fruit blend. The grape fluctuates between brighter green grapes and darker purple grapes and dates, revealing more of Craigellachie's hidden treasures. The alcohol pushes its way to the front every now and then, but as a whole never detracts from the nose. Overall, Craigellachie 21 is wonderfully sweet and savory like a rich preserve with extra "fun". 
Four Roses Single Barrel Private Select review
     The fruitiness carries over into the taste with a moderately strong mix of berries and grapes with a little bit of vanilla, malt, and wood spice. The alcohol is potent, but again is never a distraction. Taking a little more time to chew and appreciate the Craigellachie reveals a gentle up-front chocolate taste, similar to a Chinese pu'er tea, mixed with a blend of citrus, plum, vanilla, honey, sorghum syrup (yes that's a thing), and malt. Tropical fruits, pineapple, and peach rush to the forefront right as I swallow. Pineapple is not particularly distinct in the taste but for some reason is prominent into the finish. It's jammy and delicious.
     The aftertaste begins a little hot but quickly transitions into a lingering combination of berries, chocolate, and wood tannin bitterness. Chewing strengthens the oiliness, but adds pineapple, spice, and wood tannins that continue to dry and tingle my mouth for a few minutes. Craigellachie 21 starts fruity and spiced and finishes the same way. 
Place on the Whiskey Shelf

     Douglas Laing Craigellachie 21 is a wonderful Scotch. It's fruity, malty, spiced, and hot enough to keep it all rich and balanced. Even though it's very fruity and jammy, it never comes close to being syrupy and unpleasant like the Ohishi Sherry Cask, a truly bad whiskey. 
     I still can't say that I know anything about Craigellachie, but I can surely say that they make some great Scotch that I look forward to drinking again. Since there were only 578 bottles from barrel 11496 it's unlikely that you'll get your hands on this exact one. If the other barrels are anything like this one, you're in for a great treat. It's a great example of a sherry-aged Scotch, so if you can find it and you like this type of Scotch, I recommend that you buy it.