copper and kings pear brandy review
Copper and Kings Single Barrel Pear Brandy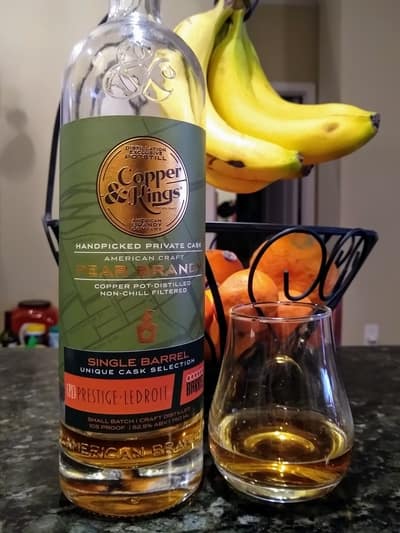 From the Copper and Kings website:
Absolutely nothing.
copper and kings pear brandy overview
There's so little about this pear brandy that Copper and Kings didn't even bother to put any information on their website, although Bourbon Veach has some extra information that I don't. I can tell you that this is distilled from 100% pear juice and aged for some amount of time in oak, but I have no idea if it's new charred oak or used. Based on the color, my best guess is used oak. Other than that, this brandy comes from a single barrel selected by Prestige Ledroit, their distributor, for the DC market. Even with all those unknowns, the liquid in the bottle matters so most, so let's understand its quality in this Copper and Kings Pear Brandy review.
copper and kings pear brandy smell
Pear immediately smacks me in the face, but in a loving non-aggressive way. To be frank, this smells exactly like a more alcoholic pear cider. Let me be more detailed though – go cut open a ripe, but not quite overripe and mushy Bartlett pear, and give it a deep smell. Copper & Kings Pear Brandy smells exactly like that. Pear dominates the nose, but there are hints of peppery oak, juniper, pine, cinnamon, and cocoa from the barrel aging, so it's not just straight pear cider. The alcohol spikes a little here and there, but mostly stays calm, again reinforcing that this isn't cider.
This single barrel pear brandy is packed with pear all day and night, with a little added mint, licorice, and toasty oak. For some reason, apple and pear brandies seems to always have a mint and licorice quality. Even after 10ish years of aging (not 100% confirmed), the oak predominately hides in the back, completely immersed in the pear. The scents are bright, vibrant, and fresh like a beautiful pear picked off the tree and cut open on the spot. 
copper and kings pear brandy taste & aftertaste
Copper & Kings Pear Brandy takes a slight turn with dry pear and more oak presence than in the nose, but it's still unmistakably pear-forward with a little licorice. A drop of vanilla and a piece of mint appear moments after, as well as some peppery oak. Given how gentle the oak is, it's clear to me (as wrong as I might be) that this was likely primarily aged in used oak.
"Chewing" releases even more pear, but more like a dry cider and less like juice. It becomes a little grassier from pear skin and oak, as well as a tad more medicinal and dry from the wood, pine, and ginger. Dried wood, black pepper, and herbal roots build over time to balance out the sweet yet dry pear. The alcohol is not noteworthy, which is a good thing.
No surprises here, but the finish kicks-off with pear, licorice, green grape (somehow), and peppery oak that ends in mint. Like I wrote before, I find that apple and pear brandies tend to leave little nuggets of mint for me to find. More oak and pepper join the pear-fest after "chewing". After a minute, it becomes especially minty with remnants of pear skin, leaving a pleasant conclusion that lingers and lingers. 
Place on the Whiskey Shelf

As someone early in the pear brandy journey (really brandy in general), I really enjoyed Copper & King's Single Barrel Pear Brandy. For me, the pear being the center of attention is an astronomical change of pace from the whiskey I primarily drink. Brash isn't the right word, but pear is the clear star of the nearly one-person show, unlike in whiskey where there tends to be more give and take between toasted sugars, fruit, wood spice, and oak. This isn't a critique, but a very obvious observation that constantly ran through my mind as I drank through the bottle.   
For better or worse, Copper & King's Single Barrel Pear Brandy is incredibly straightforward because everything is smothered in pear, but every smell and sip is still interesting. If you like pear (I do), you'll really like this; but you'll loathe this if you don't like pear. As Oprah might have said during her giveaways, "you get pear, you get pear, you get pear, everyone gets pear!!!". Now that I've drank through an entire bottle, I'm not clamoring for another one but certainly don't regret the purchase. This pear brandy has a time and place (would probably be amazing in summertime cocktails), but it's not something I see myself drinking all the time.