copper and kings capitol strength review
Copper and Kings Capitol Strength Single Barrel Grape Brandy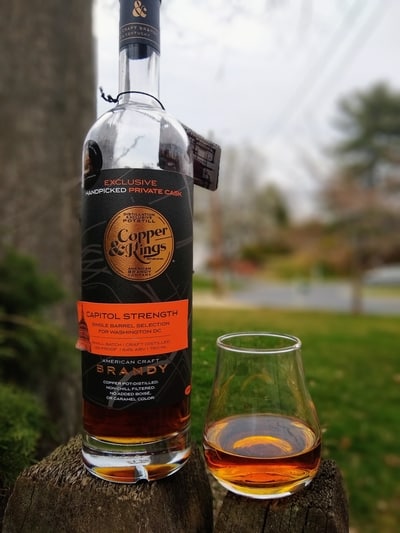 Distillery: Copper and Kings
Type & Region: Brandy, Kentucky, USA
Alcohol: 64%
Composition: 100% grapes
Aged: NAS, finished for 3 years in a Willett Rye barrel
Color: 1.3/2.0 on the color scale (russet muscat)
Price: $80
From the Copper and Kings website:
Nothing…absolutely nothing.
copper and kings capitol strength overview
Copper and Kings is an up and coming American Brandy distiller, headquartered in Kentucky in the heart of bourbon country. While they offer a number of fairly widely distributed grape and apple brandies, including American Craft Brandy and Floodwall, this particular Copper and Kings Capitol Strength Single Barrel, a grape brandy, was a limited release to the DC area. The label on the bottle states that their grape brandies are matured in bourbon and medium char American white oak barrels, but the exact source of this single barrel is not clear at all. All I could find from the internet, via Dry85 in Annapolis, MD, is that this was finished for 3 years in a Willet rye barrel. That alone is a very interesting fact and makes this brandy unique.
I like that Copper and Kings takes a whiskey-like approach to their brandy with no additives and good old-fashioned barrel aging to impart color and flavor. While the brandies are made with fruit and not grains, the mindset is still the same. Since it's also made in Kentucky, there could be a little of that bourbon magic in the air as well. From the eyes of a whiskey-lover, let's find out more about this Kentucky-made Copper and Kings Capitol Strength Single Barrel grape brandy. And because this isn't a whiskey review, I took the liberty of using my Prestige Decanter Whiskey Aficionado Glass for this brandy.
copper and kings capitol strength smell
Copper and Kings Single Barrel initially comes of kind of bourbon-y with honey, vanilla, loads of citrus, and a little peach, pear, and green apple. It's not that grapey, but it probably manifests itself in the overall fruitiness that covers all the scents. Through the fruit there's a noticeable pine tree and general wintery essence with a little licorice, and the alcohol adds a blast of cold, minty, and wintery air to the scents. That also means that the alcohol can be strong at times, but it's not quite a problem. I wonder if that winter quality comes from the Willett Rye finishing. Since I come from bourbon, it's interesting to smell how much more fruit-forward and less oaky the Capitol Strength is, which also makes sense because it's distilled from 100% grapes and only partially aged in freshly charred oak.
After swirling, Copper and Kings Capitol Strength still gives off a lot of honey, apple, and pear with less licorice, pine, and mint that still provide a constant winter-y presence. The noticeable apple and pear in this Copper and Kings brandy really reminds me of Calvados (French apple or pear brandy). The combination of fruit, mint, licorice, clove, and oak also provide a floral character that's pleasant and is reminiscent of oaked white wine. Instead of a bourbon-like constant underlying oak presence from charred virgin oak, this brandy has a constant underlying fruitiness from the grapes with accents of oak. Over multiple tastings, I've occasionally struggled with the heat, but it starts to smell better over time as it airs-out in the bottle. Capitol Strength has an extremely rich and fantastic nose that sometimes battles with the heat.
copper and kings capitol strength taste & aftertaste
Capitol Strength packs a lot of sweet fruitiness – honey, orange, and mint into the first sip. True to the rye finish, there's also enough licorice, fennel, and wintery mint from the rye to add an interesting twist. The rye and oak meld into a pleasant Christmas-y pine and mint. The alcohol occasionally competes for my attention though, sometimes to the detriment of the brandy.
"Chewing" brings out more sweet honey, orange, apple, grape, peach, and licorice. The pear, peach, and grape remind me of aged white wine, but with more oak and wood spice that kicks in after 3-4 seconds, and thicker, more intense, and more oily flavors. It's still not very oaky, but there's enough to impart a present bitterness and cinnamon poke. The heat though, can still be quite intense, so I recommend taking small sips. 
The finish is sweet and fruity as expected with continuing honey, citrus, apple, pear, and fresh mint. After "chewing", I'm left with honey and grape with lightly bitter oak, fruit skins, guava, spearmint, and lingering alcohol. After a few minutes as the oak and alcohol subside, more anise, mint, and fruit skin appear, probably courtesy of the rye finish. The finish is actually quite minty, Wrigley's chewing gum-like, and easily lasts for 2-3 minutes.
Copper and Kings Capitol Strength Single Barrel has taken me on a wild, exciting, and intense ride. The rich and fruity oaked white wine flavors are a welcome change from bourbon, but sometimes there's so much unrestrained heat that fights me as I drink. I guess it comes with the territory of cask strength spirits, but thankfully there are enough flavors to justify it. Word to the wise, this Copper and Kings brandy is best enjoyed in small sips so the alcohol doesn't take over your tongue. 
Place on the Whiskey Shelf

Copper and Kings Capitol Strength Single Barrel brandy is an interesting and fun change of pace that I'm enjoying a lot. A word of warning though – this takes a while to open up, so be prepared to wait out the alcohol before you can unlock the full experience. The blend of honey, orange, pear, grape, mint, licorice, and pine, as well as the winter-y qualities, are truly wonderful and unique at times, but it also can come off as immature when the alcohol takes over more than I'd like. Don't get me wrong, 64% is inherently a lot of alcohol and some bite is expected, but I sometimes wish there was more to counterbalance the heat. There's already so much to love here, but it could have used an extra year or two before finishing to get it all the way there. Still, this is "Top Shelf" spirit that keeps getting better over time. 
This Capitol Strength Single Barrel brandy feels familiar, yet different, for a primarily whiskey drinker. Copper and Kings grape brandy shifts the balance away from toasted sugar (brown sugar, maple syrup), oak, and spice (cinnamon, nutmeg, clove) and towards stronger fruitiness (apple, grape, pear, citrus) that is found in smaller doses in whiskey. I think that the Willett Rye finish adds licorice, fennel, mint, pine, and that general winter-y quality, but I'm not completely certain given my inexperience with American grape brandy and Willett Rye. Uncertainty aside, Copper and Kings Capitol Strength Single Barrel is a wonderful brandy that I've enjoyed sip after sip, and I can't wait to see what's in store in the coming years.