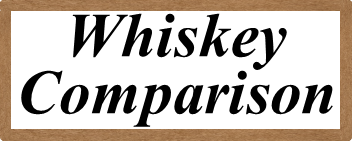 Stagg Jr vs Woodford Reserve Batch Proof
I love cask strength bourbon. Unfortunately, Stagg Jr, one of my personal favorites, is becoming more of a nightmare to find on a regular basis. As a result, I'm always on the lookout to find bourbons as good as or even better than Stagg Jr, and share my findings with you. It's a tough and thankless job, but someone has to do it. In my previous comparison, Potomac Wine and Spirit's Four Roses OESK Private Select was an extremely strong competitor, tying with Stagg Jr (batch 10) for cask strength bourbon supremacy. Stagg Jr and Four Roses OESK were very different, but incredible in their own ways, and I can't get enough of them.
This time, Woodford Reserve Batch Proof (2019 release) enters the ring to challenge Stagg Jr. I have not been impressed with regular Woodford Reserve or much of Old Forester's Whiskey Row series (also owned by Brown Forman), but Woodford Batch Proof turned out to be exceptional and was one of my biggest surprises in 2019. It's truly one of the best bourbons that Brown Forman makes today. This looks to be a stiff bourbon competition, so let's find out who comes out victorious in this Stagg Jr vs Woodford Reserve Batch Proof cask strength comparison.
The below table outlines key facts and figures for what I am comparing.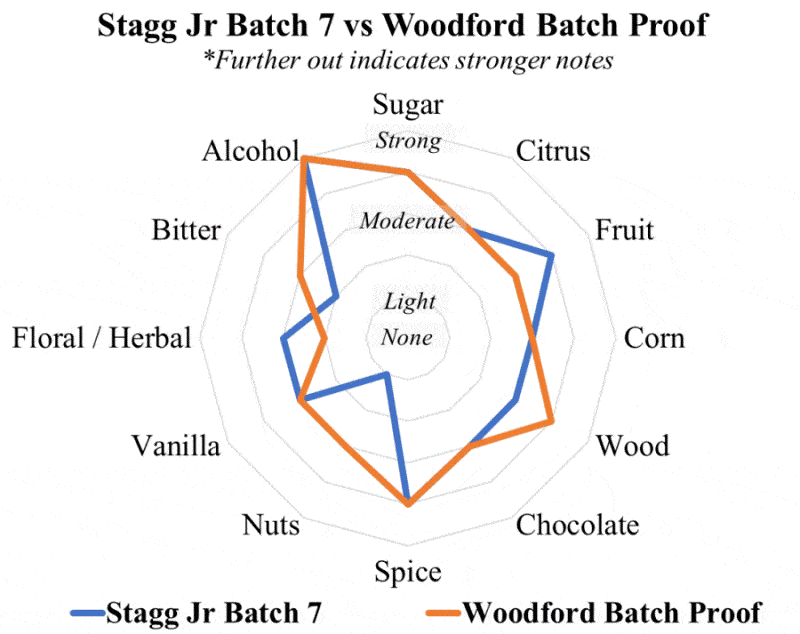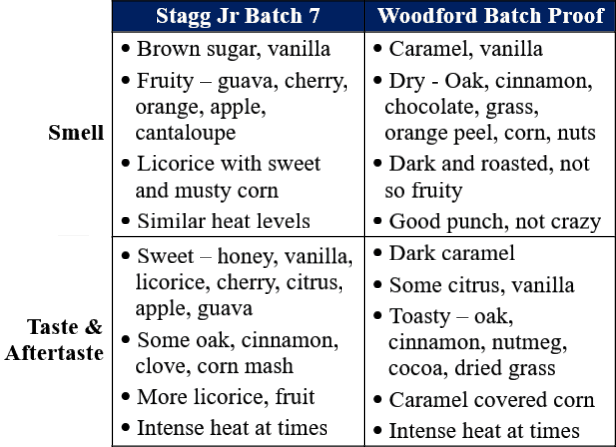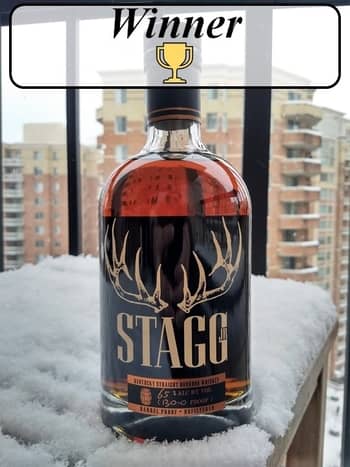 I really like Woodford Batch Proof, but it falls a little short compared to Stagg Jr Batch 7. Even though these bourbons are different, Stagg Jr ends up providing a more pleasurable experience. It has a little more depth, variety, and complexity, primarily from stronger fruit and herbal licorice notes, while still providing enough oakiness and spice for balance. Still, both are "Top Shelf" bourbons and there are no actual losers, so count yourself lucky to drink either one.
With my first smells, I could immediately tell that Woodford Batch Proof and Stagg Jr are very different. Woodford Batch Proof is dark, dry, oaky, and chocolatey, sometimes reminding me of Elijah Craig Barrel Proof with dried grass and slightly nutty notes often found in Heaven Hill bourbons. These differences remain constant in the flavors. Even the fruitiness is concentrated on dry orange peel. Stagg Jr is brighter with more honey, apple, cherry, and guava fruitiness, and more of the rye comes through with licorice and mint. Stagg Jr has a pleasant fruity and floral quality that's missing in the Woodford. Regardless, the alcohol in both can be quite intense but nothing out of the ordinary for 60+% cask strength bourbon.
I have to take a moment to talk about price. Even at $80-90 I'd pick Stagg Jr over Woodford Reserve Batch Proof. As great as it is, Woodford is not worth $130 for me so I don't feel compelled to buy it. In the end, spend what you're willing to spend (and believe me I've spent more on whiskey), but if I'm going to pick one, I'm going to reach for Stagg Jr or Four Roses store picks (yes I know they do vary).
Maker's Mark Cask Strength Comparison