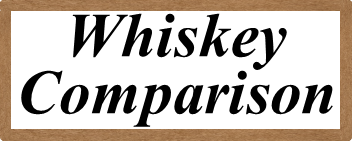 Stagg Jr vs Four Roses OESK Potomac Wine and Spirits Private Select
It's no secret that Stagg Jr is one of my favorite bourbons, chock full of sweet, spicy, and fruity character that is hardly matched by bourbons 2-3x the price. Unfortunately, availability is often limited to downright non-existent, a byproduct of the booming whiskey industry. The reasonable next question then is, "If I can't get Stagg Jr, what should I drink instead?" Lucky for you, I have taken it upon myself to explore the many possible answers to that question. I took my first stab at it by comparing Stagg Jr and Booker's Kitchen Table (2018-04); and although Stagg Jr ultimately won, Booker's was a worthy, albeit very different, competitor.
For this second comparison, I'm bringing Potomac Wine and Spirits' Four Roses OESK Private Selection, a 10 year and 5 month old single barrel bourbon (E for low rye – 20% rye, K for slight spice), into the ring. This is a formidable whiskey, mutually agreed-upon by one of the owners of Potomac Wine and Spirits and the late Al Young as the best barrel of the group. It's even more important to pick well if you're committing to buying an entire barrel, not cheap. Let's find out who comes out victorious in this Stagg Jr vs Four Roses OESK cask strength comparison.
The below table outlines key facts and figures for what I am comparing.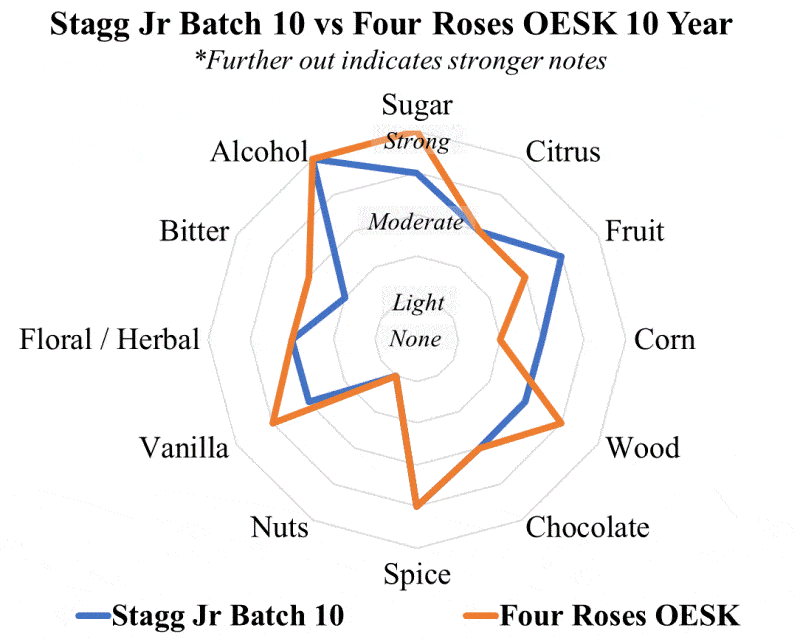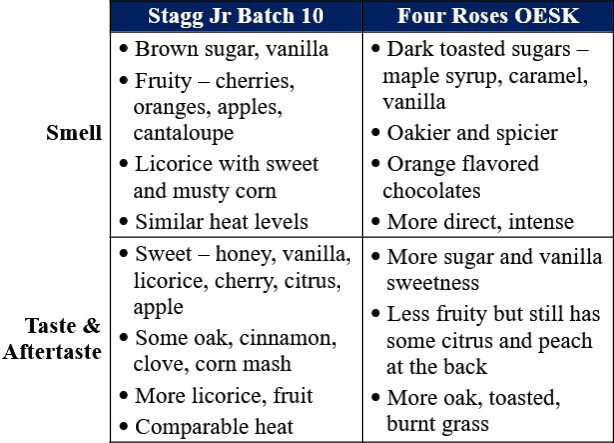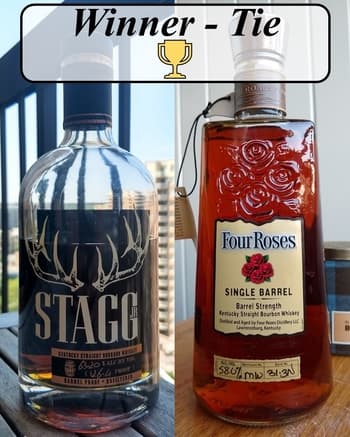 Stagg Jr and Four Roses OESK Private Select have very distinct personalities yet end up being just as wonderful, so this comparison ends in a tie. Both Stagg Jr and Four Roses OESK are very sweet and occasionally hot, but Stagg Jr is the more fruit-forward bourbon, full of cherries, spiced apples, citrus, and cantaloupe (seriously). Four Roses is more direct and aggressive with intense toasted sugar sweetness -caramel, maple syrup, and vanilla, as well as oak and cinnamon with less fruit. I get fleeting tastes of orange chocolates and peach, but the roasted sugars are the star of the show.
This is hard to explain, but Stagg Jr's stronger fruit and licorice notes combined with gentler oak make it smell and taste, dare I say, "softer" around the edges while the burnt sugars and oak make the Four Roses more direct and defined, but in a great way. Four Roses OESK's 10 years and 5 months of age really comes through in the oak's supporting presence, providing pleasant and balanced grassy, burnt, and cocoa character that are more dramatic than in the Stagg Jr.
You'd be very lucky to drink either bourbon. While Potomac Wine and Spirits' Four Roses OESK Private Select is not an exact substitute for Stagg Jr, it's still an excellent bourbon worth experiencing if you happen to have one.
Maker's Mark Cask Strength Comparison