Cadenhead Ben Nevis 17 Year Scotch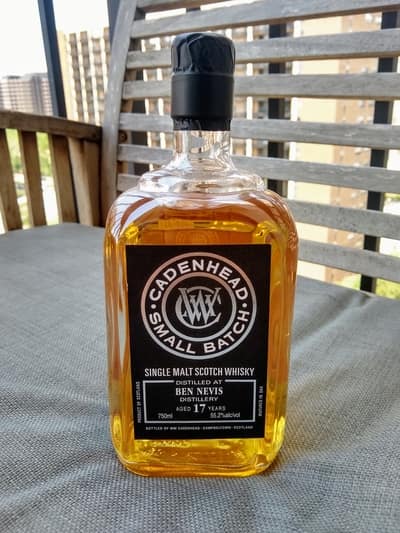 From the back of the bottle:
There's nothing.
ben nevis 17 year overview
I unapologetically love Ben Nevis Scotch, especially from Cadenhead. Cadenhead Ben Nevis 23 Year Small Batch is one of my favorite whiskeys, so I jumped on the opportunity to buy the 17 year in late 2020 at a "reasonable" $120. I admit that I don't completely live in reality as $120 is definitely expensive for whiskey, but is a great price for this Scotch.
Unfortunately, Cadenhead doesn't provide much information on this Ben Nevis 17 Year Single Malt Scotch, but based on the age and color I'm confident it is aged in ex-bourbon barrels. Other than that, you may want to know that Ben Nevis is a Speyside Scotch, with the distillery perched right next to Ben Nevis (the tallest mountain in Scotland). The distillery is owned by Suntory-Beam, and while you may not know much about / drink much Ben Nevis, you'll also find some in Nikka From The Barrel, which is amazing.
In this Cadenhead Ben Nevis 17 Year Single Malt Scotch review, let's find out if this Single Malt captures that Ben Nevis magic. I sound like a fanboy, but as always I do my best to be objective.
Ben Nevis 17 Year is crammed full of bright and tropical fruits – a ton of orange and grapefruit with honey, pineapple, pear, green apple, guava, brighter strawberry and blueberry, a little creamy vanilla, and malty butter cookies. It's an absolute fruit bomb and clearly an ex-bourbon aged Scotch. There isn't much oak or wood spice, but overall is far from just drinking juice as there's a round alcohol base providing some heat and body.
After swirling Ben Nevis 17 Year is very citrusy and fruity with abundant freshly peeled orange and grapefruit with slightly less dense layers of blueberry, strawberry, pear, and fresh vanilla cream. It's a fruit cocktail / fruit cup where all the fruit was soaked in alcohol for months. This is an outstanding smelling Scotch.
ben nevis 17 year taste and aftertaste
Ben Nevis 17 Year has a bright pop of abundant honey, grapefruit, and orange with a little less vanilla frosting, oak, malty biscuit cracker, and mint. I wasn't expecting the mint note, but it reminds me a little of a mint julep with that sweet base with a gentle minty twist. Unlike the scents, I taste a little more oak and get a little bit more alcohol bite, so this definitely drinks like a boozy fruit cocktail. 
"Chewing" brings out very rich minty honey followed by orange, grapefruit, strawberry, fresh whipped cream, and a little roasted oak. Now I think of a fruit cocktail with mint garnish and a dollop of whipped cream – just yummy. The flavors are bright, fresh, and delicious, with decently viscous mouthfeel and not much heat. As short as this paragraph is, let me reiterate that Ben Nevis 17 Year Scotch is very delicious and enjoyable, it just specializes on a narrow set of fruitiness.
The finish is fruity and a little grassy and vegetal – orange, grapefruit, citrus peel, dried grass, and mint. It's a long-lasting fruit cocktail. "Chewing" leaves a vibrant, fresh, minty, and citrusy finish. It's absolutely fantastic and a nice chance of pace from bourbon. 
Place on the Whiskey Shelf

Cadenhead's Ben Nevis 17 Year Single Malt Scotch is awesome – a bright, vibrant, fresh, and rich Scotch that embodies a fruit cocktail with mint garnish. This is a great example of a well-aged ex-bourbon Scotch and one I wish I could buy again. Unfortunately, I used up all my luck finding the first one, so I don't expect to find another one anytime soon. Still, I enjoyed every sip of this delicious Scotch, and that's how it should be. Sure, Ben Nevis 17 Year Scotch is kind of a one trick pony that's very citrus and mint-forward, but it deliciously excels in that area. I'll continue to look for more cask strength Ben Nevis Scotches in the future, although increasing prices across the board make it more difficult to do so.
There's a lot of great content to come, so consider supporting The Whiskey Shelf on Patreon. Support here.
Comments are closed.