weller antique 107 review
Bull Run 12 Year American Whiskey Finished in Pinot Noir Casks Seelbach's Pick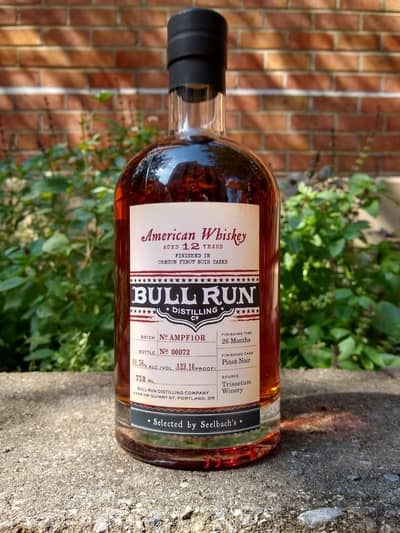 Distillery: Bull Run (sourced from MGP)
Type & Region: American whiskey, Indiana and Oregon
Alcohol: 61.58%
Composition: 96% corn, 4% barley
Aged: 10 years in ex-bourbon barrels and 2 years in a Pinot Noir barrel 
Color: 1.4/2.0 on the color scale (tawny)
Price: $55, but this particular pick is sold-out
From the Seelbachs website:
"It was an obvious choice for Bull Run to work with an Oregon Pinot Noir since that is Oregon's premiere red varietal. Bull Run begins with a 10-year American Whiskey. This whiskey is then aged for 26-months in a secondary Pinot Noir barrel from Trisaetum Winery. Secondary finishes are slightly more common these days. However, secondary aged barrels are harder to find. Most finished whiskey only sits in the barrel for 3-6 months. That allows for little interaction with the wood. With a 26-month aging process, the whiskey is allowed to penetrate the wood and pull out some more nuanced flavor. The longer aging also allows the sweetness to mellow."
weller antique 107 overview
Bull Run is a craft distillery based in Portland, Oregon that produces a range of single malt whiskeys, bourbons, and more. I found out about this distillery after perusing Seelbachs.com, an interesting online craft spirits retailer that also does a lot of barrel picks. This Bull Run 12 Year American Whiskey being reviewed is a Seelbach's / Bourbonr pick that was aged in used bourbon casks for 10 years then finished for 26 months in a Trisaetum Pinor Noir cask. 26 months is an unheard of length to finish any type of American whiskey, bourbon, rye, or anything else. This particular bottle comes from batch AMPF10R and is bottle 72.
As a reminder, this Bull Run whiskey is not bourbon, it is American Whiskey because it was aged in used bourbon casks. Another nuance worth nothing is that the mash is made from MGP's 96% corn 4% malted barley mash, which MGP no longer offers in 2019. It was likely aged for 10 years in an MGP warehouse then sent to Bull Run to be finished in Oregon. Given the current state of bourbon and rye, it's refreshing to find a 12 year old cask strength whiskey for "only" $55. The Pinot Noir finish is also very unique. I have high hopes, so let's find out more in this Bull Run 12 Year American Whiskey review.
Seelbach's pick of Bull Run American whiskey starts with blend of alcohol, caramel, maple syrup, vanilla buttercream sprinkled with cinnamon, and clove followed by dried corn, toasted oak, and a little dark chocolate. For better or worse, the alcohol permeates everything, constantly battling my nose and the other scents for attention. Shifting my nose and sniffing some more reveals dark fruits: prunes, grapes, and berries, hinting at the wine finish, but far from the how forward it can be with sherry-aged or finished Scotch. A little dark honey and creamy buttery-ness open up as well, but the alcohol remains constant. Even letting it air out for an hour doesn't fix that intensity, shocking for something 12 years old. 
After swirling, I smell caramel, dried corn, berries, apples, marshmallows, a little honey, slightly chalky cocoa powder, and a lot of nutmeg. There certainly are hints of dark grapes and prunes, but it smells more like it's been finished for a few months, not 2 years. Toasted oak and tobacco are in the scents as well, but this Bull Run American whiskey doesn't smell very roasted or dark like a 12 year old bourbon might. It manifests itself as dried and slightly smoky cracker. Overall, I expected a lot more wine influence, and its awesome potential is frequently covered up by distracting heat, and that's a real shame. 
weller antique 107 taste & aftertaste
After smelling, the flavors really perk up with viscous caramel, berries, grapes, cherries, vanilla, and a little date. The lengthy and rich wine finish influence is certainly there and comes off much like Pedro Jimenez sherry or port. Oak starts to appear in the middle and back of the palate, but it's not too dark or bitter. Cinnamon, nutmeg, and clove make a stronger appearance in the middle and back end of the flavors. I'm somewhat reminded of a sherry-finished Scotch, but it's missing the stronger malt or chocolate notes. The alcohol is also very potent, again constantly battling for my attention. 
Bull Run 12 Year American Whiskey is just as sweet and intense after "chewing". There's sweet and dense cherries, prunes, caramel, maple syrup, and marshmallows with a little less date, cinnamon, clove, dark chocolate, and toasted, not very burnt, oak. Little pieces of dry cracker are intermingled as well. For 12 years old, there isn't too much oak tannin, likely due to aging in used bourbon barrels, but the 2 years of Pinot Noir finishing are front and center with the viscous dark fruit flavors. The wine traits are the most forward flavors, much like they are in wine-aged Scotches.
The finish has sweet caramel and orange with a light oak bitterness and a sprinkle of cinnamon and nutmeg. It slowly transforms into dry grapes and tannins, like a dry red wine that was aged in oak, and then becomes slightly grassy and herbal like dried corn kernels. "Chewing" leaves a little sweet honey, maple syrup, and thick grapes, but mostly toasted oak and dried corn with sprinkles of cocoa powder here and there. This Seelbach's Bull Run American Whiskey pick definitely starts and finishes like a barrel-aged red wine, just a super strong one.
Place on the Whiskey Shelf

I'm conflicted with Seelbach's Bull Run 12 Year American Whiskey barrel pick. On one hand, the flavors pack a lot of rich and interesting caramel, maple syrup, vanilla buttercream, and dark fruit flavors from the wine finish. On the other hand, there's so much untamed heat on the nose and palate that it often makes it difficult for me to fully enjoy it. I love Stagg Jr, Booker's, and other cask strength whiskeys so I can handle the alcohol, but it's different in this Bull Run whiskey. Even doing this review 3 times over a month and letting it rest for 30+ minutes each time didn't open it up much, and that's disappointing because it's such a promising whiskey.
I may not love this particular Bull Run pick, but I'll still continue to enjoy this interesting and unique drink. It's rare to find an American whiskey that was finished in Pinot Noir, let alone for 26 months, so I've learned a lot from doing this review. I certainly do not regret this purchase and look forward to future Seelbach picks.