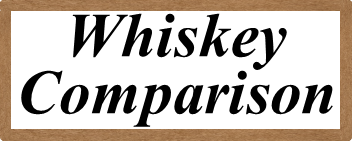 Buffalo Trace White Dog Mash #1 vs Wheated Mash
People love Buffalo Trace's whiskeys. While everyone has their personal favorites, we often forget that these whiskeys started out as unaged spirits fresh off the still, often called White Dog or moonshine. Buffalo Trace's White Dogs are easy to overlook, in part because they're not as widely distributed, but mainly because of their polarizing characteristics. I personally like drinking them, but I'm likely in the minority. It takes years of barrel aging, interacting with the wood and air, to eventually transform White Dog into Buffalo Trace, Stagg Jr, Weller Antique 107, and other whiskeys that people go crazy over buying, collecting, and drinking. 
In the spirit of honoring Buffalo Trace's unsung and unaged heroes (no pun intended), I'm going to give White Dog Mash #1 and Wheated Mash the attention they deserve, yet don't often get. Read on for this Buffalo Trace White Dog Mash #1 vs Wheated Mash comparison to find out how different they are and which White Dog / moonshine I prefer.      
The below table outlines key facts and figures for each White Dog:

How do they Compare? Buffalo Trace Mash #1 vs Wheated Mash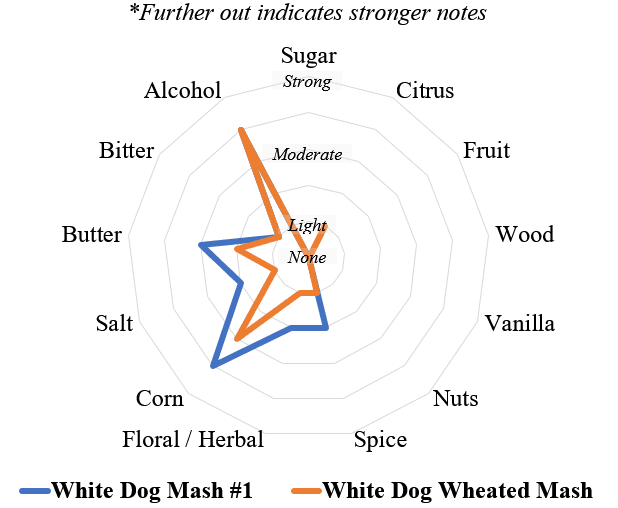 How to Read the Chart 
Mash #1 is in blue, and Wheated Mash is in orange. The center of the circle indicates none of a trait. Further out the line indicates a stronger presence of that trait. 
The scale (from inside to out):
     – None
     – Light
     – Light-Moderate
     – Moderate
     – Moderate-Strong
     – Strong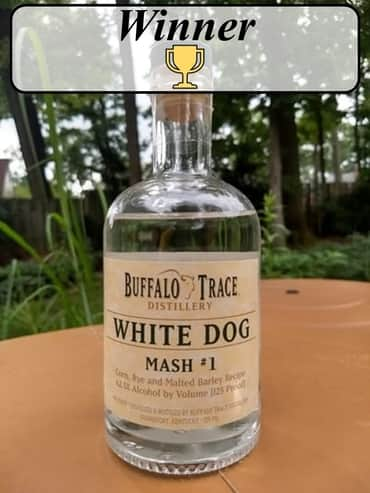 Buffalo Trace Mash #1 and Wheated Mash obviously are similar given their predominately corn bases. Both have buttery and creamy corn, with a little grain, that form the backbone for the smells and tastes. The main difference is that Mash #1 has more of it, and it ends up being more pleasant to smell and drink. The rye in Mash #1 adds hints of mint, grass, black pepper, pine needles, and gin botanicals while the wheat seems to provide a drop of orange extract. Both carry about equal heat on the nose, but Mash #1 already smells more interesting.
The flavors maintain many of the same differences. Mash #1 still brings that slightly sour, buttery, and creamy corn mash, while it's toned-down in the Wheated Mash. Mash #1 also has black pepper, mint, and pine from the rye. The Wheated Mash doesn't have much character, and I can't seem to find any citrus. It may be washed out by the alcohol, which both is potent in both drinks. Both also leave oily and slightly sweet and bitter corn flavors on the finish that dry my mouth.
Even though they're both unfinished products, I'm crowning Buffalo Trace White Dog Mash #1 the winner. Even with zero seconds of age, it's already richer and more interesting. For all the hoopla around the wheated mash, there isn't much wheat influence to be found. Regardless, good thing there's time for both to mature.
Maker's Mark Cask Strength Comparison