Buffalo Trace Mash #1 vs
Stagg Jr. (Batch 10)
     Buffalo Trace White Dog Mash #1 is the foundation for many of Buffalo Trace's most popular products including Buffalo Trace, Eagle Rare, EH Taylor, Stagg Jr. and George T. Stagg. In my quasi-review of Mash #1, I mention that I enjoy drinking it because it's unabashedly intense, forward, and delicious. Stagg Jr. is Mash #1 aged for 7-8 years in virgin American white oak barrels and bottled at cask strength. I also reviewed Stagg Jr. batch 10 and gave it a top shelf rating for it's incredibly strong and complex flavors. Without a strong white dog foundation, there cannot be a great bourbon. How does wood aging change Mash #1 into Stagg Jr? Keep reading and find out.
     Completely unaged, Buffalo Trace White Dog Mash #1 smells and tastes predominately of lightly salted corn and butter, creating a popcorn sensation. There's also an ever so slightly bitter, black pepper, and floral trait likely from the rye. All this makes sense because the mash is 70%+ corn, with some rye and barley for additional flavors (and to help with fermentation). The malting and fermentation process may also help create those slightly salty and buttery tastes.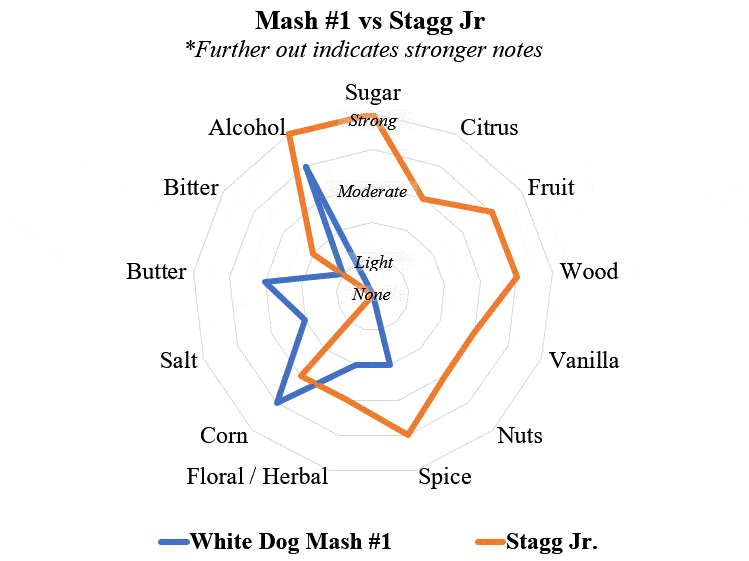 How to Read the Chart 
     Mash #1 is in blue, and Stagg Jr. is in orange. The center of the circle indicates none of a trait. Further out the line indicates a stronger presence of that trait. 
The scale (from inside to out):
     – None
     – Light
     – Light-Moderate
     – Moderate
     – Moderate-Strong
     – Strong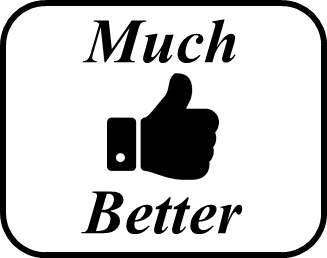 The graph shows us that Mash #1 and Stagg Jr. live in completely different worlds. Barrel aging infuses strong sugar notes such as maple syrup, caramel, and honey, as well as citrusy and fruity sweet notes of cherry, apple, apricot, and lemon. Additional wood-influenced notes of cinnamon, vanilla, allspice, slightly sticky and bitter wood tannins, musty wood, and nuts are found throughout Stagg Jr. 
     I'm assuming that the nutty trait came from aging and not the yeast because I didn't taste it in Mash #1. Aging also enhances the rye spice and pumpernickel bread flavors. As you can tell by the increased proof (Mash #1 = 62.5%, Stagg Jr = 63.2%), some water evaporated during aging resulting in a hotter bourbon. Even with so many new traits, Stagg Jr. still has a hint of buttered popcorn that was prominent in Mash #1 and a light bitterness from the rye.
     Time and wood did wonders for Mash #1. It went from a potent and mostly one-dimensional drink to an even more potent yet very complex bourbon bursting with flavor and heat. With that said, every bourbon ages differently, and it's up to Master Distillers to decide what to do with their inventory to create the best end products they can. That's why Mash #1 becomes not only Buffalo Trace, but Eagle Rare, George T. Stagg, and others. All I know is that I can generally say how aging impacts a whiskey, but it takes drinking it to really understand in what way.