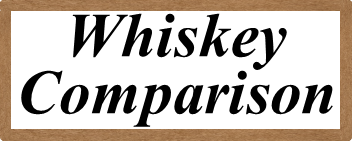 Weller Antique 107 vs Buffalo Trace Wheated Mash
Buffalo Trace's wheated bourbons are all the rage. There's Weller Special Reserve, Weller Antique 107, Weller 12, the newest release – Weller Full Proof, and of course the ultra high-end William Larue Weller and entire Van Winkle line. Regardless of the name, price, age, or barrel selection, all these coveted bourbons started out as the unaged Buffalo Trace White Dog Wheated Mash, raw, young, and ready to be transformed. While those whiskeys can be exceedingly difficult to find, lucky for us, we can go out and buy this Wheated Mash to sample for ourselves without much fuss.
Admittedly, White Dog is an acquired taste that I happened to enjoy, so I have taken it upon myself to compare how barrel aging has transformed Buffalo Trace's White Dog Wheated Mash into Weller Antique 107. Full disclosure: Weller Full Proof, which has the same proof as the Wheated Mash, would have been a more appropriate comparison, but it is impossible to obtain where I live so Weller Antique will have to do. I'm excited to smell and taste just how the Wheated Mash transforms into Weller Antique 107 in this Buffalo Trace Wheated Mash comparison, and I hope you will find this useful along your whiskey journey.
The below table outlines key facts and figures for what I am comparing.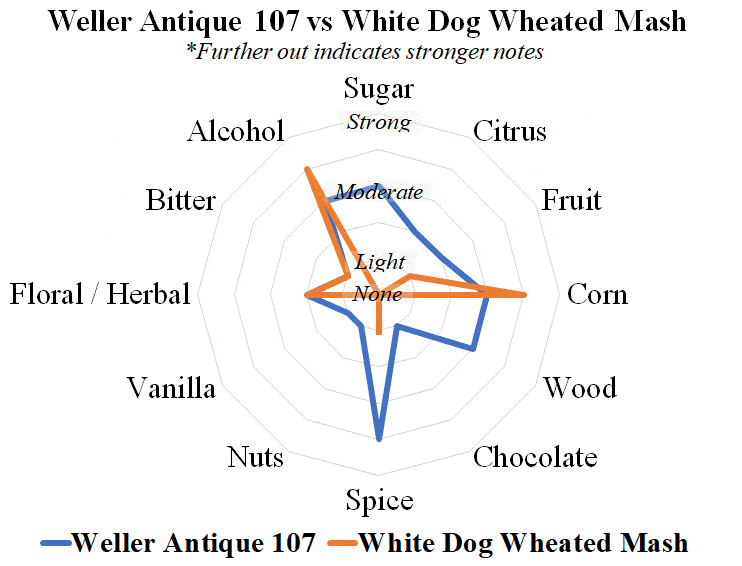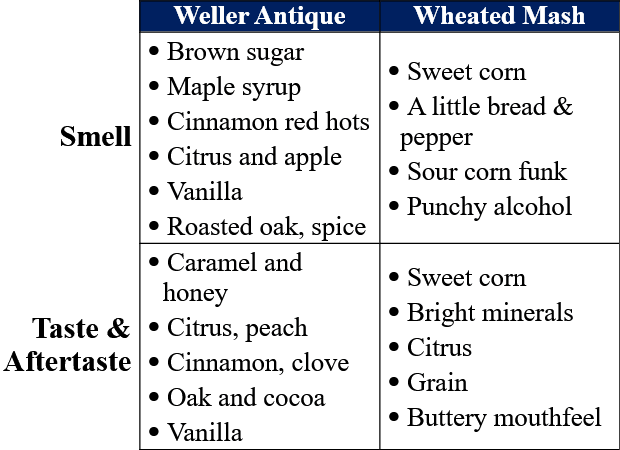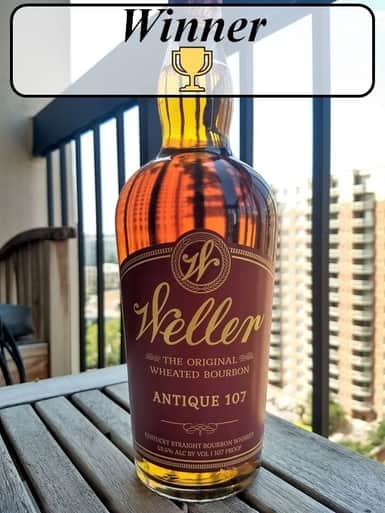 I'll state the obvious: Weller wins, but the main takeaway from this Buffalo Trace Wheated Mash comparison is that barrel aging is a magical process that transforms one-dimensional and funky corn liquid into developed and complex bourbon. Over time, the various interactions infuse dark, interesting, and welcome sugar, fruit, oak, spice, and cocoa traits, as well as clear away the sour and funky corn. Surprisingly, aging only tames the alcohol a little, but Weller's lower proof may play a part in that. One big surprise for me was that the Wheated Mash had a thicker and more buttery mouthfeel compared to Weller. I actually prefer the raw Wheated Mash in that way, but that's really where it ends. I still prefer White Dog Mash #1 to the Wheated Mash (and yes I did do a side by side comparison of that to determine that).
I recommend that you do this comparison for yourself. While you may not be motivated to drink White Dog, it's a very interesting learning experience that may give you a greater appreciation for white dog, whiskey, and the aging process in between. It's too easy to forget bourbon's roots, and from time to time it's worthwhile to remind yourself of where it comes from and how it transforms over time.
Maker's Mark Cask Strength Comparison