weller antique 107 review
Booker's C06-B-15 (from 2014)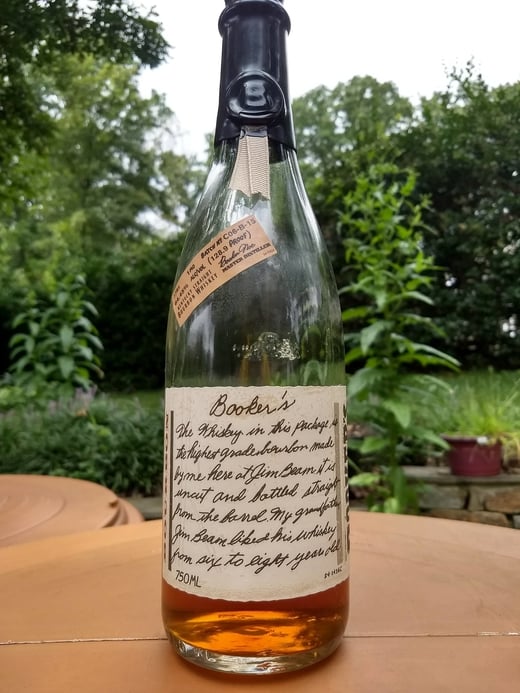 Distillery: Jim Beam
Type & Region: Bourbon, Kentucky, USA
Alcohol: 64.45%
Composition: 75% Corn, 13% Rye, 12% Barley
Aged: 7 years 1 month in virgin American white oak
Color: 1.3/2.0 on the color scale (russet, muscat)
Price: $55-80 MSRP (750mL) now, but $40-50 in 2014
From the Booker's website:
"Booker's Bourbon is a rare barrel-strength bourbon, bottled uncut and unfiltered. But you obviously know a good bit about bourbon, because you don't end up here by mistake. We don't advertise. We don't do social media. We just do bourbon. We focus on the sweet spot. The center of the rackhouse where the temperature and humidity stars align to create the deepest and most intense flavors. Once it's aged to perfection, which always varies, the liquid is bottled uncut and unfiltered. We don't add, we don't water down, and we don't apologize for it. For some people, it may be too much. But for true bourbon fans, it's probably the best ever."
Booker's is part of Jim Beam's line of small batch bourbons, including Basil Hayden's, Baker's, and Knob Creek, with Booker's as the highest-end bourbon based on pricing. Although this "vintage" Booker's batch C06-B-15 from 2013 doesn't have a name, with that practice starting around 2015, it's still very much the same cask strength small batch bourbon. If you're interested in a more recent batch, I also reviewed Booker's Kitchen Table, the last batch of 2018 (2018-04). Compared to the rest of the small batch line, Booker's has 2 main differentiating factors: 1) it's always bottled at cask strength, and 2) some details are provided as to what barrels go into the blend. Let's see how this "vintage" Booker's drinks.
*Edit: A reader kindly corrected me in that this batch is one of 3 from 2013, not 2014. Bourbonex has a full list of Booker's barrel dates and ages, so you can calculate around when it was released.
Pungent vanilla and honey show up immediately with a little fruity honeydew mingled in, very much what I expect from Booker's. Underneath all of that, I smell light to moderate amounts of chocolatey and nutty fudge covered in dried orange peel, freshly cut pine wood, and pine needles. It's hard to explain, but there's also a slightly nutty, savory, and sweet mung bean scent that I find in some Asian desserts. The nutty scents are definitely present, but are not nearly as pungent as in Booker's "Kitchen Table" or Pikesville Rye. Alcohol heat is potent and present throughout, but rarely takes over the nose. 
Swirling releases more musty wood and corn with pine and a little cocoa, very much like Booker's Kitchen Table. I also smell more vanilla buttercream with some roasted nuts and preserved lemons. The scents sometimes come together to form caramel nougat with nuts, and sometimes lemon meringue. Booker's is full of pleasant and interesting smells. 
I initially taste a variety of sweet fruits and citrus with some honey, nutmeg, and cinnamon all wrapped up in charred wood and alcohol. Light but noticeable corn and dough act like a crust for the other flavors, reminding me of Old Forester 1920. Booker's definitely has some heat but never overwhelms me like Stagg Jr does from time to time. Chewing brings out more citrus and fruits, such as cherry and lemon, with a healthy dose of nuts and a slice of cornbread sprinkled with cinnamon and wood. The combination of slightly sweet lemon and tingling alcohol also reminds me of Sprite. It's all very interesting. 
The finish initially is nutty and sweet with charred wood, corn mash, and lingering carbonation-like alcohol. Booker's is full of oils and wood tannins, and is especially noticeable after the sweetness and alcohol subside. Chewing transforms the finish, coating my mouth with citrus, pear, and wood. As the sweetness fades, the dark and drying wood tannins take over again, almost as if I had eaten something that was heavily smoked.
Place on the Whiskey Shelf

Booker's C06-B-15 from 2014 is yet another excellent batch of Booker's bourbon. The thing I find most interesting is that even in the midst of this current bourbon boom, Booker's Kitchen Table is very similar to this Booker's from 2014. While the 2014 version is a little fruitier and Kitchen Table is a little more citrusy and nutty, both are excellent. Unless you're really paying attention, you're probably not going to find a huge difference between them. It just goes to show that Booker's is consistently a top shelf bourbon. I think a lot of that can be attributed to the fact that most batches range from 6-7 years old, so Jim Beam has enough barrels to maintain some consistency in each release. As long as the price is right (but that's never a given since the MSRP now is $80, but many stores sell it for less), Booker's is an excellent go-to cask strength bourbon.