Nikka From The Barrel and Eagle Rare Potomac Wine and Spirits Barrel Pick Blend
weller antique 107 overview
Nearly every whiskey brand makes its name by blending whiskeys. Even many of the most desirable bourbons are blends, including the Buffalo Trace Antique Collection and Four Roses Limited Edition Small Batch to name a few. Some companies such as Barrell and Compass Box only focus on blending and finishing whiskeys to find that perfect mix. It's a little art, science, and magic. With all that said, I'm going to experiment with my own blending to find out what happens.
This time, I am blending Nikka From The Barrel, one of my favorite Japanese whiskeys under $100, and Potomac Wine and Spirit's Eagle Rare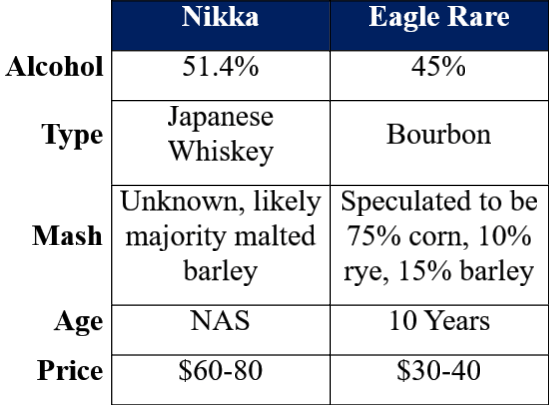 Barrel Select, a step up from regular Eagle Rare. Why did I pick these two? Because I had a little left in each bottle and decided to give it a try. I tried to do a 50/50 blend, but ended up with about 55% Nikka from the Barrel and 45% Eagle Rare because of pouring error. I let the mix sit for 30 minutes before smelling and drinking to let it integrate and breathe. I really have no idea what to expect in my inaugural Adventures in Blending.
I'm initially surprised by the fact that I smell more of the Eagle Rare caramel and oak mustiness first and not as much of the Nikka date and berry sherry-forwardness. But after a few sniffs, the date, peach, citrus, vanilla, and general creaminess from the Nikka start to appear. There isn't much heat to speak of. If anything, the higher proof Nikka actually tames some of the Eagle Rare's heat.
After swirling, Eagle Rare leaps up to the front with musty oak and caramel, but then gives way to Nikka sherry influence again, with a little bread. Hints of creamy milk chocolate appear as well. The combination of the two produces a slightly different fruitiness, a little more lemon and general citrus than just dates, as well as a little guava from Eagle Rare's rye. As a whole, this near 50/50 blend takes on about 60-70% of Nikka From The Barrel, in part because of the higher proof and in part because sherry is generally a more forward trait.
weller antique 107 taste & aftertaste
The blend takes an interesting turn with the flavors, starting with dates and berries then peach and chocolate from the sherried Nikka followed by a little more oaky spice and bite from the Eagle Rare. The fruitiness from the Nikka really shines through, and in this case takes the lead. After "chewing", I get sweet and fruity chocolate: caramel, dates, orange, and peach. The fruitiness in both seem to meld together, but the sherry always takes center stage. This blend takes on much of Nikka's creaminess and cocoa as well with a little bit of Eagle Rare's spice and oak, but with less bitterness. There's slightly elevated spice and cinnamon from the Eagle Rare, but still falls in between both whiskeys, and the alcohol is very subdued.
The finish is sweet and fruity with a little anise, cinnamon, and alcohol tingle, a fairly even mix of the two whiskeys. After 10-15 seconds, I'm left with a little corn and apple from the Eagle Rare. It's slightly oaky after a minute, but not completely like a bourbon. After "chewing", the finish is mostly fruity and sweet with a little spice. There's a hint of heat with lingering fruit, oak, and mint. The finish starts as an equal split between the two but becomes more Eagle Rare as the oak and mint set-in.
Takeaways from blending...
I didn't know what would happen with this blend, but the results are interesting nonetheless. Nikka From The Barrel and Eagle Rare are two radically different whiskeys that don't necessarily complement each other well in a 50/50ish blend but would probably be better suited as a ~80/20 blend (or something like that). Nikka is fruity, creamy, and a little smoky, while Eagle Rare has more caramel, oak, spice, and darkness with more delicate anise and licorice notes from the rye. My particular blend covered up all the smoke in the Nikka and much of the rye in the Eagle Rare, highlighting that the ratio probably wasn't ideal.
Given the strong sherry influence in Nikka, I wonder if an 85% Eagle Rare / 15% Nikka blend may have been better. The Nikka would have added a little extra berry fruitiness and creaminess to Eagle Rare, but still let much of the bourbon's caramel, herbal sweetness, spice, and oak be more present, enhancing its "bourbon-ness". Unfortunately, all of this whiskey is gone, so I won't be able to do more experimenting with the ratios. The blend was certainly still delicious, but it wasn't necessarily better than the sum of its parts. It's something for me to keep in my mind for next time, so I'm glad I gave blending a try and will continue to experiment with it. I hope you will do the same. Cheers to experimentation!