Belle Meade Select Cask Cognac Finish review
Belle Meade Select Cask Cognac Finish Bourbon for Washington DC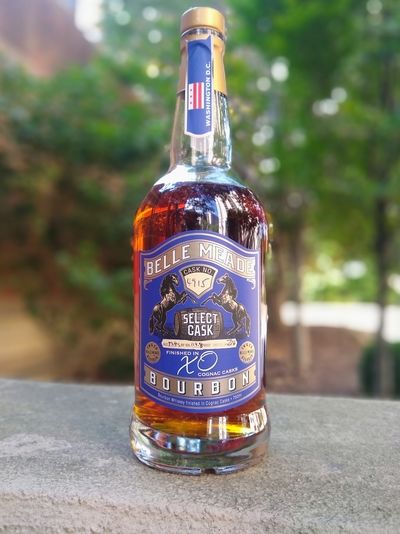 Distillery: Belle Meade / Nelson Greenbriar (sourced from MGP)
Type & Region: Bourbon, Indiana, USA
Alcohol: 57.4%
Composition: Likely 75% corn, 21% rye, 4% barley
Aged: 12 years in virgin American white oak
Color: 1.3/2.0 on the color scale (russet muscat)
Price: $100-110 MSRP
From the Belle Meade website (for the standard cognac release):
"We start by seeking the perfect casks for the project because like any other ingredient, the finishing cask must be exceptional in order to achieve exceptional results. We use casks made of French Limousin Oak that have been used for 12 years to age one of the world's premiere Fine Champagne XO Cognacs. One smell of these casks tells you that they hold truly magnificent potential as finishing barrels."
Belle Meade Select Cask Cognac Finish overview
For the past few years, Belle Meade has been releasing Cognac, Madeira, and Sherry cask finished bourbons at 45.7% ABV and with age statements that have changed over time and more recently have been removed. In late 2018, Belle Meade released single cask cask strength versions of these finished bourbons to a few markets across the US, with Washington DC as one of two markets lucky enough to get the single cask XO Cognac finish (180 bottles). While very few details are provided, I was able to confirm with Belle Meade that the bourbon itself is 12 years old, a huge step up from the 6-7 year for the standard release, but the length of the finish and the cognac's origins were not disclosed.
At the time of these releases in 2018-2019, finished MGP bourbons were still fairly uncommon, with Joseph Magnus, One Eight Distilling's Untitled line, and Belle Meade doing the bulk it (to the best of my knowledge). A lot has changed in the 18-24 months since, as finished MGP bourbons have become a little more widely distributed, including Redwood Empire Haystack Needle and Bardstown Bourbon Company Copper and Kings / Chateau de Laubade Finish. I've been on a finished bourbon spree lately and loving every moment of it, so let's find out if the streak continues in this Belle Meade Select Cask Cognac Finish Bourbon for Washington DC review.
Belle Meade Select Cask Cognac Finish smell
Belle Meade Cognac Select Cask has quite the dark nose – roasted brown sugar, moderately roasted oak and dry tobacco, caramelized oranges, vanilla, cinnamon, mint, and this mix of candied fruit peel. Even with all those notes, the cognac finish isn't that big, but does seem to add extra oak, tobacco, and candied fruits that are not as noticeable in unfinished MGP bourbons such as Remus Repeal Series 3. As a bonus, the 57.4% ABV is quite calm and lets the bourbon and cognac dance together.
Swirling opens up the scents with roasted sugars, charred oak, dry tobacco, dried berries and mint, candied ginger, and this citrus and vanilla with a hint of aged cheese funk from what must be the cognac. It's not nearly as funky as say Cigar Blend or Chateau De Laubade finish, but it's there. The swirling really brings out the tobacco and darker fruit notes that make this much more fragrant and enjoyable, and still somehow keeps the heat in check. Every now and then I smell this blast of freshly cut wood and mint that create a winter-y quality that I've also found in Copper & Kings Capitol Strength Grape Brandy (finished in Willett rye barrels). The cognac finish comes through more with agitation, but it's still not very forward and remains more of a supporting actor, providing those telltale signs of tobacco, candied fruits and ginger, and slightly citrusy and vanilla savory aged cheese funk. Belle Meade Select Cask Cognac Finish has a great nose though.
Belle Meade Select Cask Cognac Finish taste & aftertaste
Belle Meade Select Cask Cognac Finish Bourbon is very sweet initially with toasted brown sugar, citrus, vanilla, caramelized citrus rind, candied fruit, and baked apple. The oak follows the sweetness after a few seconds, coming-in as dried tobacco, lightly roasted oak, and cinnamon. The cognac seems to appear as candied citrus peel and tobacco, making this not so oaky. There isn't much heat either, an added bonus of the 12 year old bourbon.
With "chewing", I still taste a mix of dried citrus, caramel, and honey sweetness followed by oak, dried berries, candied ginger, roasted marshmallows, cinnamon, licorice, and a faint grain note. There's a little more punch from the oak and heat this time, but it's still well managed. As I noticed initially, the XO cognac finish adds this additional layer of interesting citrus and dried fruits that makes my mouth salivate like crazy. The cognac finish isn't hugely prominent though, with my best guess being that it was finished for maybe 4-6 months. It's quite flavorful, but the more I sip it, the more I notice that the flavors lack the depth and character of Bardstown Bourbon Company Chateau de Laubade Finish (Armagnac finish). It's a terribly unfair comparison given that the Chateau de Laubade Finish is superb, but the Belle Meade has similar shortcomings as Joseph Magnus Bourbon and Untitled Whiskey No. 13. This Belle Meade tastes fantastic as-is, but it lacks the roundness and depth of something truly incredible.
The finish starts with caramelized honey and candied fruits with mint, tobacco, and dried orange peel. The dried candied orange peel with just a dash of white sugar lasts for a while, influenced by the cognac which I believe infuses a lot of those candied fruit and ginger notes. "Chewing" leaves a similar caramelized citrus and ginger note with honey, oak, vanilla, and mint. Over time I get this nice dried cranberry flavor. The oak tannins are there, but it's still not that tannic given the age of the bourbon and the cognac finish, although it does become more tannic and dry as the oak and candied dried fruits build with every sip.
Place on the Whiskey Shelf

Belle Meade Select Cask Cognac Finish Bourbon is a lovely whiskey overall that lacks some of the mid and low range richness that Joseph Magnus Cigar Blend and Bardstown Bourbon Chateau de Laubade Finish have, making it fall into the same area as Joseph Magnus Bourbon, One Eight Untitled Whiskey No. 13, and Bardstown Bourbon Company Copper and Kings Finish. The XO cognac finish seems to have been fairly short, maybe 4-6 months given the cognac's supporting personality, whereas finishes lasting longer tend to explode and be 1b to the bourbon's 1a. Still, the cognac cask finishing was long enough to infuse layers of noticeable, yet still subtle, dried citrus, candied dried fruits and ginger, dried tobacco notes, and the faintest savory aged cheese funk notes that are less prominent or nonexistent in the base MGP bourbon.
By and large Belle Meade Select Cask Cognac Finish Bourbon for Washingon DC is an excellent bourbon for your shelf, albeit one that's not so easy to find anymore. The good news is that other Belle Meade Single Cask Cognac Finishes have been released in other areas since, although I don't know how many there actually are or where to find them (sorry). The other good news is that you have alternatives in Joseph Magnus Bourbon and Untitled Whiskey No. 13, both finished in cognac and other casks, so there are similarities. I'm going to enjoy this Belle Meade Select Cask Cognac Finish Bourbon a lot while it lasts, but I also won't be clamoring for another when it's done.