Glenlivet Nadurra 16 review
Glenlivet Nadurra 16 (Batch 0814D)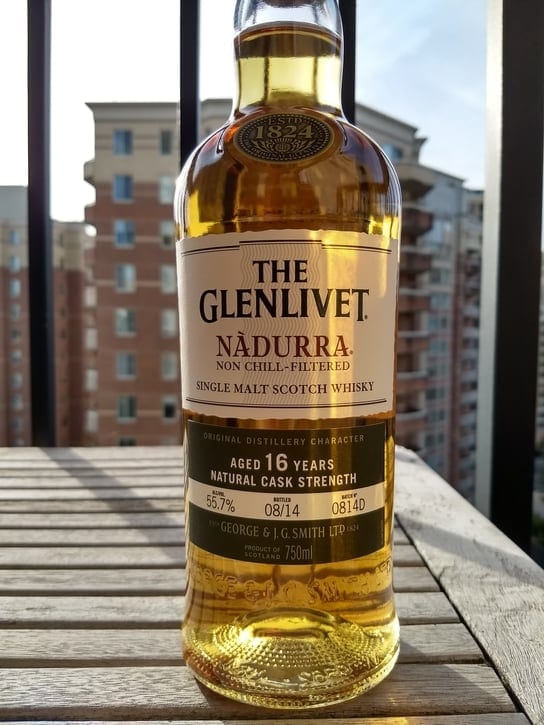 Distillery: Glenlivet
Type & Region: Scotch, Scotland, UK
Alcohol: 55.7%
Composition: 100% Malted barley
Aged: 16 years in first fill American Oak barrels
Color: 0.6/2.0 on the color scale (old gold)
Price: $50 on clearance, $100 MSRP (750mL)
From the back of the bottle:
"Nadurra in Gaelic means natural. Crafted using traditional 19th century methods, unlike most modern whiskies it has not been chill-filtered, giving it more body and a distinctively creamy mouthfeel. After 16 years maturing in first-fill American oak casks, Nadurra is bottled at cask strength to deliver its rich and rewarding taste. By omitting modern chill-filtering, we preserve intact the full flavor of the malt, capturing the original character of George Smith's distillery: the pure expression of a great tradition."
Glenlivet Nadurra 16 review
     Glenlivet Nadurra 16 is part of Glenlivet's line of cask strength Scotches that are virtually unadulterated out of the barrel (except for filtration to remove sediment and bits of wood), hence the term Nadurra meaning "natural". First the bad news: the 16 year was unfortunately discontinued around 2014-2015 because of shortages of older stock so it's unlikely that you or I will ever find this in stores for the foreseeable future. The good news is that it was replaced with the non age-stated Glenlivet Nadurra FF2015, which I gave a "Top Shelf" rating for it's wonderfully complex and intense traits. Let's see if the age statement makes a difference.
Glenlivet Nadurra 16 review
     Up front there's a noticeable sweet and fruity base composed primarily of peach and pear with a dense and deep honey. It's fruit concentrate: rich, full, and developed, but still restrained. There's also a light mint and lightly charred wood smell, similar to a rye whiskey. I rarely (really never) smell mint and wood in Scotch, but I bet that aging in first-fill American oak, similar to those used in bourbon, for a long 16 years infuses more bourbon-like scents. 
     Swirling opens-up more of the interesting spice notes from the alcohol, wood, and mint, but overall remains fairly closed. The spices remind me of gently cinnamon-spiced bubblegum with a drop of vanilla extract, but without the pumpernickel bread that often comes with rye. Once the glass is empty, I smell a dash of raw cocoa powder as well as bourbon-esque musty wood and old fashioned-like orange rind. I expected to smell more chocolate malt throughout, but the fruit, spice, and wood notes may cover it up. I didn't add any water to find out what would happen in that case. 
     Glenlivet Nadurra 16 is wonderfully fruity and spicy, but given the proof and age, it not as potent and big as I would have expected. It's not good or bad, just an observation. I could have let it breathe longer to see if it would open up, but I was too excited and impatient to wait.
Glenlivet Nadurra 16 review
     Whereas the nose is reserved, the flavors are strong and outspoken. There's a rush of peach, citrus, tropical fruits, and honey followed by sweet graham cracker-like malt. It is a sweet, dense, and rich nectar. Dashes of spice and peppery wood intermingle with the moderately-strong alcohol burn, adding a hot and spicy flavor that provides an interest counterbalance to the strong sweetness. "Chewing" releases more bright fruits: apples, pears, and oranges with a splash of vanilla extract, as well a pinch of pepper, cinnamon, and wood. A light buttery and smooth taste helps boost the already thick, almost syrupy mouthfeel, and the alcohol bite constantly reminds me that this is still a cask strength Scotch not to be underestimated. 
     The flood of fruit transitions into more subdued citrus and green apple, leaving a slight alcohol tingle and an oily and malty aftertaste with guava appearing here and there. The oils (from the lack of chill filtration) and wood tannins dry out my mouth, leaving a gummy and minty taste that's a little bitter yet refreshing.
     Glenlivet Nadurra 16 is a spectacular bouquet of fruit and malt, yet the bourbon-like wood and spice add new and interesting complex layers to appreciate. The Glenlivet is not quite as tropical as Ben Nevis 18, but still just as good in different ways.
Whiskey is also for sharing, so I use Vivaplex, 12, Amber, 2 oz Glass Bottles, with Lids for smaller samples and Vivaplex, 12, Amber, 4 oz Glass Bottles, with Lids for larger ones. Full transparency – This is an Amazon affiliate link so I may earn a commission if you buy this or something else. Regardless, I actually use these myself.
Place on the Whiskey Shelf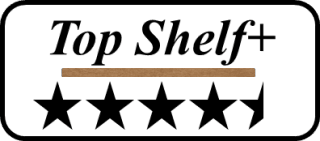 Glenlivet Nadurra 16 is hands-down spectacular. The smells may be shy, but the flavors are loud yet deep and refined. It's wonderfully fruity and sweet yet spicy and woody, a combination I rarely find in any whiskey, not even in the newer NAS version.  There's a drop-off between the 16-year version and the NAS FF2015, but the FF2015 is still excellent hence its top shelf rating. For better or worse you can't rush 16 years of aging, and no master blender can mask the more youthful malt.
     While both are aged in the same type of cask, the 16 is bolder, darker, and more developed, and has an extra level of intensity and complexity from the wood and spice that is essentially absent in the NAS version. Glenlivet Nadurra 16 has some similarities to Ben Nevis 18, an incredible Scotch in its own right. If you happen to find one of the last remaining bottles of the 16, I suggest that you buy it because you may never see it again.