Kirkland 24 Blended Scotch Whisky​ review
The Glenlivet 25 (batch 0216C)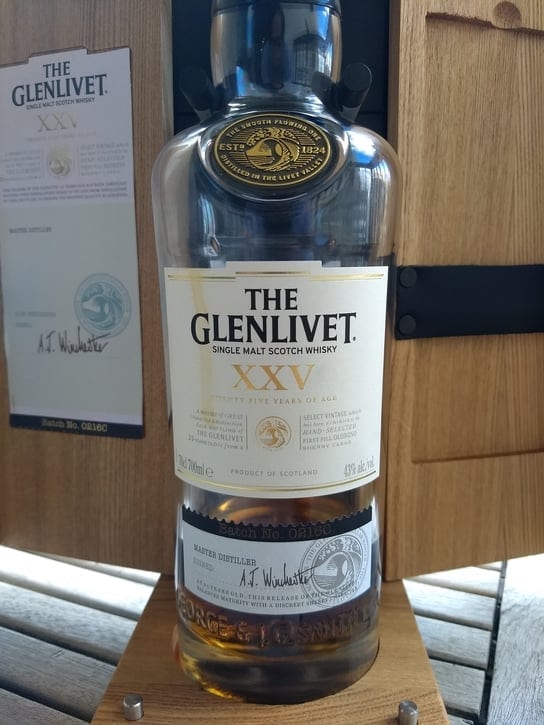 From the Glenlivet Website:
"Using some of the rarest of our whiskies, all of which have been aged for at least 25 years, this is a batch-produced whisky finished in ex-sherry butts. Our team of experts individually select each cask and monitor the whisky in its finishing process to make sure the Oloroso-soaked wood adds the subtlest sherry tones to an intense, silky and elegant whisky. This molten amber liquid is nearly as splendid to hold in your hand as it is to drink. Afterwards, the finish is incredibly long, rich and balanced. But it's the nose on the 25 Year Old that really drives whisky-lovers to distraction – with scents of bittersweet dark chocolate and plump, sweet sultana."
Four Roses Single Barrel Private Select review
 *Shout out to my buddy for leaving this bottle for me to finish
     When you ask someone about famous Scotch brands, Glenlivet usually is one of the first that comes to mind. Like many of its Highlands and Speyside siblings, the Glenlivet has a long and distinct history of selling delicious Scotches. I've greatly enjoyed the Glenlivet Nadurra FF2015 and Glenlivet Nadurra 16. The 16 is one of my personal favorites, but unfortunately discontinued. The Glenlivet 25-year is especially special because it's one of the the oldest you can buy. 
     The Glenlivet 25, as stated is a 25 year old Scotch aged in ex-bourbon then finished in ex-oloroso casks. It comes meticulously packaged in a masterfully built and luxurious wooden case that opens like a safe holding priceless treasures, holding not only the Scotch, but also a booklet revealing more about it. It's incredibly detailed and thoughtful presentation. This particular bottle from batch 0216C was purchased at Hong Kong duty free by a buddy of mine. Like the Nadurra products, this is batched so every batch may be a little different.  
Four Roses Single Barrel Private Select review
     The sherry finish comes through with gently rounded and moderate pear, cantaloupe, apple, cherry and honey, followed by light to moderate wood and spice. The alcohol is virtually nonexistent, expected from the 43% alcohol and the mellowing effects of 25 years of aging. Strong swirling releases hints of cherries, dates, and nuts from the sherry, but lacks the potency, richness, and sweetness that sherry finishing usually adds. There's also a dash of slightly spiced chocolate malt, like drinking chocolate.
      For a 25-year-old Scotch, the nose is not particularly deep. The aging allows each of the various scents to stand out on their own instead of being a collective mass, but overall it's not as rich or interesting as it should be. If I did this blind, I would think that this was a solid 15-18 year old Scotch and not think much about it. For the lack of a better word, the nose good, but doesn't exhibit the maturity that a Scotch this old should. 
Four Roses Single Barrel Private Select review
     Lightly savory and sweet chocolate, similar to that in pu'er tea, is front and center with a touch of ground coffee and a blend of honeydew, pear, and honey. There's a little wood and apple-pie spice blend of nutmeg and cinnamon all wrapped in chocolate malt, and nearly no alcohol to be found. Very strong chewing releases a little more flavor and exhibits more of the date, apricot, and chocolate malt that is to be expected from a sherry-finished Scotch. 
     Light fruit and spice remain on the aftertaste, creating a lightly spiced fruit tart taste with wood and chocolate. The last moments of the aftertaste contain light vanilla and floral notes. The alcohol warms my throat but never burns. Glenlivet 25 has a variety of very good flavors with some complexity, but it's far from being unique or outstanding.
Place on the Whiskey Shelf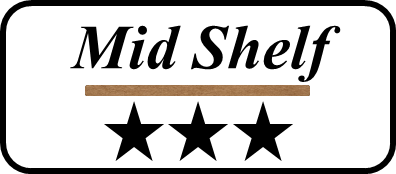 Glenlivet 25 is a disappointment. It's enjoyable enough, but the fact that it's only slightly better than Kirkland 18 Year Speyside and not quite as interesting as the Jameson 12 Distillery Reserve is a big problem. Any reasonable person would have enormous expectations, yet the Glenlivet 25 doesn't come close to meeting them. The scents and flavors are not rich and complex enough for a $450 Scotch. Nikka 21 is another high age and low proof whiskey, but it's' so vibrant and interesting (although I still can't justify the price). The Glenlivet 25 is a good Scotch that isn't good enough. 
     Stay away from Glenlivet 25 unless your main goal is to impress someone. If you have $450+ burning a hole in your wallet, go find any number of great independently bottled Scotches such as Douglas Laing Craigellachie 21 or Ben Nevis 18, or Glenlivet's own excellent offerings such as Glenlivet Nadurra First Fill American Oak. There's a whole world of great Scotch out there, so don't waste your money on this one. If you do, you'll enjoy drinking it, but you'll wonder the whole time if it was worth it.