Breckenridge Bourbon review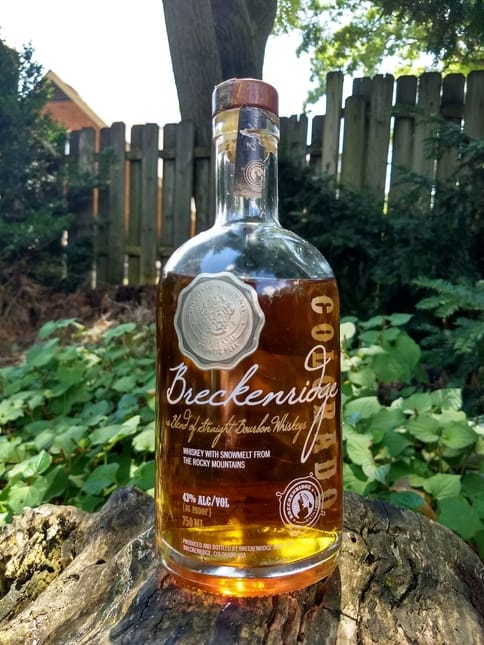 Distillery: Breckenridge Distillery
Type & Region: Bourbon, Colorado, USA
Alcohol: 43%
Composition: 56% corn, 38% green rye, 6% malted barley
Aged: At least 2-3 years
Color: 1.1/2.0 on the color scale (burnished)
Price: $50-60 (750mL)
From the Breckenridge website:
"Deep honey-amber hue with warm, pronounced aromas of under-ripe banana and brown sugar, with spicy notes of white pepper and toasted sesame. Light body with warm texture and long sweet oak, vanilla finish with a touch of bitterness to balance. Reminiscent of a slice of toasted rye bread with honey drizzled on it. We mash, ferment and distill a lot of Bourbon in house. Our Blend of Straight Bourbon Whiskeys also consists of Barrels selected from Kentucky, Tennessee, and Indiana chosen for their unique qualities, heritage, and ability to marry in our blend, always made from a high-rye mash bill."
Breckenridge Bourbon review
     Breckenridge Distillery, founded in 2007, is an award-winning craft distillery based in Colorado (here's a list of just a handful of the awards they've won). At 9,600 ft elevation, they're known for being the "highest distillery in the world". They pride themselves on their location, which allows them to create "whiskey with snowmelt from the Rocky Mountains" and provides a unique location to age its whiskeys. But like many younger distilleries, they also source a portion of their whiskey while their homemade stuff ages. Do I think that their base high-rye bourbon is worthy of all these awards? Let's try and see.
Breckenridge Bourbon review
     This is without a doubt a rye-forward bourbon. Even before I knew of the high rye mashbill, I could smell abundant amounts of effervescent peppermint and pine, and smooth rye bread, followed by light wood and alcohol. This spice is not spiky or spicy like black pepper. Underneath the rye, there are light notes of citrus, caramel, and butter. Sniffing harder reveals some sour corn mash.
     Vigorous swirling releases a moderate amount of alcohol, a little sour corn mash, and a hint of caramel and maple sweetness. Peppermint is still the most pungent smell. After a few seconds, there's an interesting, yet gentle smell of damp and musty wood, not the usual spicy or roasted wood found in bourbon. I almost always smell musty wood once the glass is empty, but Breckenridge Bourbon has it with the glass still half full. 
     Wrigley's gum-like peppermint lingers once the glass empty. Beneath the peppermint, there are traces of vanilla, honey, and cornbread. After a few minutes, a hint of musty wood reappears.
     Breckenridge Bourbon has a nice collection of scents that are representative of high-rye bourbon or rye whiskeys such as Sazerac 6, a low-rye whiskey made from only 51% rye. My issue is that this bourbon's smells are too round and soft, likely due to the low proof and youthful age. While proof and age are not the only factors that impact smell, they limit its potential in this case.
Breckenridge Bourbon review
     Commensurate with high-rye bourbons, the first taste is predominately peppermint, with light to moderate amounts of caramel and honey, and just the pinch of vanilla. The peppermint is delicate and allows for other flavors to appear. When I search harder, I taste a little sweet tang of orange juice. 
     Swishing the liquid in my mouth releases a moderate amount of alcohol, some cooked corn, and a light amount of roasted wood, but not the musty wood on the nose. There's also something vegetal, like raw spring mix vegetables, that was unexpected. For an instant, I also taste raw cocoa powder, but then it disappears just as fast as it came. The gentle aftertaste lingers, with light to moderate amounts of wood and chewing gum-like peppermint. I can also taste corn mash, but it quickly disappears. 
     Breckenridge Bourbon is pleasant and delicate, but unmemorable. If you don't think too hard about drinking this, it's too easy to miss all the subdued flavors. There's a lot of potential, but Breckenridge may have saved it for another bourbon. Since I haven't had the other ones yet, I can't say for sure. 
Breckenridge Bourbon review
     With it's high-rye mash and prominent rye characteristics, this would pair well with sandwiches made with rye bread such as pastrami or corned-beef sandwiches, as well as minty foods and desserts. 
     Given its delicate flavors, very dark and roasty foods would not pair well with this.
Place on the Whiskey Shelf
     Breckenridge Bourbon is "fine", but that's it. It tastes pretty good, and is delicate, smooth, and unoffensive, but is overall forgettable. This could be a good bourbon for someone looking to get into it without getting pummeled by something more intense that will overwhelm them. If that's all you want, this is for you. If you're hunting for something more interesting, look somewhere else.