Douglas Laing Big Peat Christmas Edition 2015​
Douglas Laing Big Peat Christmas Edition 2015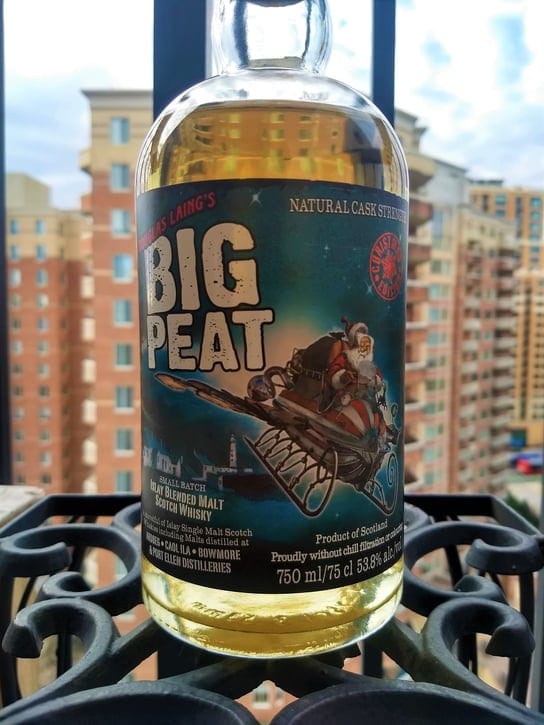 Distillery: Blended and bottled by Douglas Laing
Type & Region: Scotch, Scotland, UK
Alcohol: 53.8%
Composition: 100% malted barley
Aged: NAS, likely aged in ex-bourbon barrels
Color: 0.2/2.0 on the color scale (pale straw)
Price: $44 on sale, $65ish MSRP (750mL)
From the back of the bottle:
"Historically we would call this – whisper it – a "vatted malt"…it may be blonde but it has a beat peat kick! A special small batch bottling (specially for Christmas) – Traditionally unchill filtered and at cask strength. A vatted malt such as this is what the Scotch Whisky industry would call a 'marriage of malt'. This very bottling carries a big peaty, salty, beachy, ashy, oceanic, and rather chimney sooty selection of Malts from the legendary Whisky Island of Islay…You could say that this is 'Islay in a bottle' and we'd be bound to agree!"
Douglas Laing Big Peat Christmas Edition 2015​
     It's Christimas time again boys and girls, so today The Whiskey Shelf is reviewing Douglas Laing's Big Peat Christmas Edition 2015. The Big Peat Christmas Edition is a yearly limited release small batch blended malt Scotch. The 2015 version only uses malt from Ardbeg, Caol Ila, Bowmore, and Port Ellen, all wonderful Islay distilleries (or used to be in Port Ellen's case until it's up and running again in 2020). 
     As a refresher, "blended malt" means that the Scotch a blend of various single malt Scotches all made from 100% malted barley. "Blended Scotch whiskey" is a blend of single malts, grain whiskey (e.g., using corn), and/or neutral grain spirits (kind of like vodka) to the blend. One is not better than the other, but it's still good to know the terminology. 
     Technicalities aside, I love the vibrant and festive blue packaging with Santa riding his reindeer-less sleigh (but with a small Rudolph figure on the front) full of presents, flying around an Islay distillery. It's beautifully done and eye-catching. I saw this sitting on a shelf on sale and I knew I had to have it.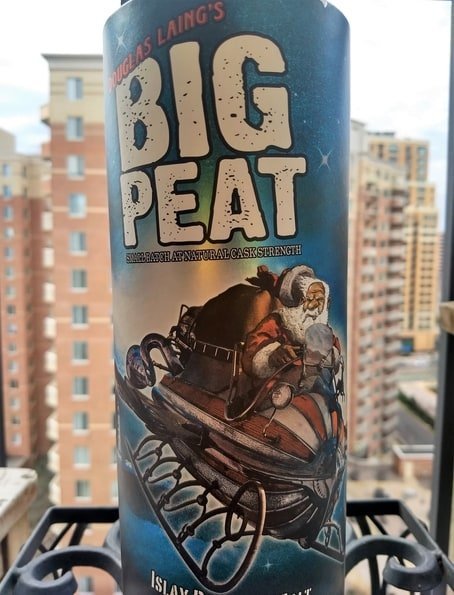 Douglas Laing Big Peat Christmas Edition 2015​
     As expected, peat is front and center but it's not overwhelming peaty as advertised by the "Big Peat" moniker. It's a briny and mesquite-smokey type of peat, although it doesn't quite evoke the ocean or the forest as other Scotches do. I don't feel like I'm drowning in peat. I also get lighter notes of grapefruit, citrus, and sugar sweetness courtesy of the bourbon casks that counterbalance the peat. The alcohol is strangely quite absent as if it were 40% and not 53.8% Scotch. 
     Swirling doesn't unleash more peat, probably because my nose is adjusting to it. The peat smoke and salt calm over time, allowing vanilla and a splash of tropical peach, pear, and guava to appear. The peat now smells more like smoked meat covered in rubbing spices and salt. There's also a light grassy and floral note with a smidge of barley malt. The alcohol remains very subdued. It's funny: by color alone the blend appears young, but the alcohol says otherwise. For "Big Peat", the nose is more delicate than I would expect.
Douglas Laing Big Peat Christmas Edition 2015​
     Big Peat Christmas Edition immediately hits me with savory smoke, peppery wood, and heat. There's a nice, light sugar and citrus sweetness wrapped in alcohol heat and moderately strong BBQ-like smoke and spice. The nicely savory and peaty smoke and salt may be subdued on the nose, but the "Big Peat" really leaps onto my tongue. Strong "chewing" releases a little more smoke, savory and earthy mushrooms, and smoked jerky with a light amount of sweetness and a blade something grassy. I can't help but be repeatedly reminded of BBQ sauce with a healthy serving of wood, pepper, and alcohol.
     The peat and alcohol linger on the finish, tingling and drying my mouth with a smoky, spicy, and woody aftertaste. Overall, this tastes very good, but it's not quite outstanding. Big Peat has all the things you would want from a peated Scotch, but the peat and sweetness lack enough pop, depth, and complexity to make me think "wow", and that only comes with more age. With that said, it's still very enjoyable and well done. 
Place on the Whiskey Shelf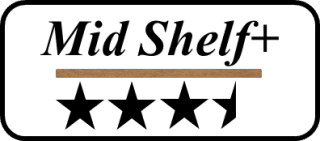 I really enjoyed drinking Douglas Laing's Big Peat Christmas Edition 2015 even though it didn't quite live up to the "Big Peat" title. It's a kind of wacky (like the packaging) blend of delicate scents and stronger flavors. The blend leans towards younger malts but doesn't detract from the overall experience. Adding older malts would make it better but would come with an even higher price tag. I can't forget to mention that THE PACKAGING IS AMAZING. It's some of the best I've ever seen. 
     As expected, Big Peat Christmas Edition carries many similarities to Laphroaig 10 Cask Strength, truly a "Big Peat" type of Scotch. Laphroaig 10 Cask Strength, with an age statement, is more developed, intense, and savory, worthy of the "Top Shelf" rating. The Big Peat isn't quite there, hence the "Mid-Shelf+" rating, but still very nice. With all that said, if you like moderate to moderately-strongly peated Scotches, you probably will like the Douglas Laing Big Peat Christmas Edition. If you can find it and the price is right, it's a worthy addition to your shelf.