1997 Ben Nevis 21 Year Old "Old Malt Cask" K&L Exclusive Single Sherry Butt Cask Strength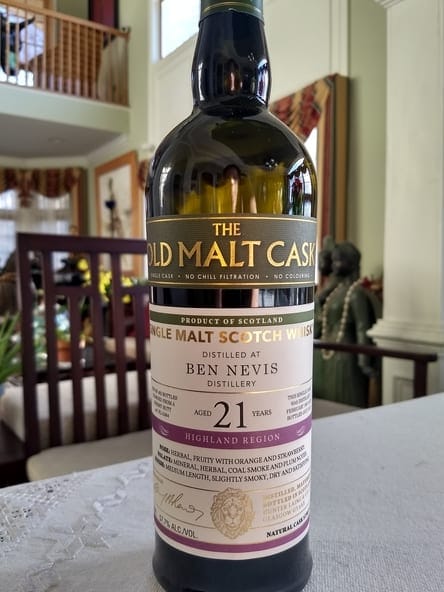 Distillery: Ben Nevis, but independently bottled by Hunter Laing & Co.
Type & Region: Scotch, Scotland, UK
Alcohol: 57.7%
Composition: 100% malted barley
Aged: 21 years in a single sherry butt
Color: 1.1/2.0 on the color scale (burnished)
Price: $100 MSRP (750mL)
From the K&L website:
"This cask is rich with funky malty aromatics, but not over the top. A medium amber hue and tons of texture, the most shocking thing about it though is the incredible price. We're very lucky to have an advantageous exchange rate and some really serious negotiating power. The oily richness of Ben Nevis loves plenty of air and a dab of good spring water will really help open this monster up."
     Today we have another K&L exclusive single barrel, this time from Ben Nevis via the independent bottler Hunter Laing. As shown on the label, Ben Nevis is a highlands Scotch, from the western section closer to Islay. This Ben Nevis 21 Old Malt Cask was distilled in February 1997 and bottled in July 2018. It is one of 483 bottles charged from a single sherry butt (unspecified type of sherry). 
     I'll be honest and a little biased, Ben Nevis makes some of my favorite Scotches. They're heavy, sweet, savory, and complex. I consider Cadenhead Ben Nevis 22 and Ben Nevis 18 bottled for Antony Woodville Pirt to be some of the best that I've ever had. So far, I've also had very positive experiences with K&L exclusive barrels. Their single barrel Douglas Laing Old Particular Craigellachie 21, another sherry-aged Scotch, was fantastic. I'm excited to find out more about this new Ben Nevis 21, so let's get into it.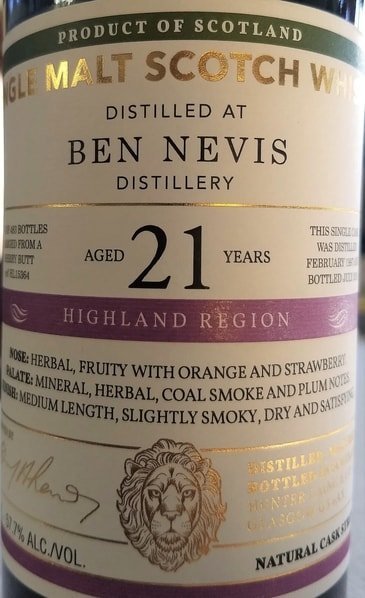 My nose is getting lathered in wonderful sweetness. The nose is super rich and fruity with apricots and honey help up with secondary notes of vanilla, buttercream, and malt. It's rich and savory like peach cobbler or peaches and cream. The alcohol is incredibly calm, which belies the 57.7% alcohol beast. Hard swirling (thankfully none ended up flying out of the glass) showcases more of the same: strong peach, apricot, berries, and deep and dark honey with underlying malt and charred wood notes. The wood smells isn't quite like the cinnamon and pepper you get from bourbon, it's more a general darkness and heft that counterbalances the sweetness. The alcohol does provide a slight tang, that in combination with the fruit, is like peach-flavored yogurt. With that said, swirling does nothing to the alcohol, it's too mature to get riled up by that. 
     All I can say is that Ben Nevis 21 Year Old Old Malt Cask smells incredibly decadent and rich. Based on smell alone, my guess is that this was aged either in a palo cortado or oloroso butt. It isn't pruney and grapey enough to be aged in a Pedro Jimenez cask. 
     Ben Nevis 21 is chock full of peach and apricot sweetness with a little bit of graham cracker malt. It's not overpoweringly or sickeningly sweet like cough syrup, but it's still very viscous and decadent. For a lack of a better word, it's rich as hell. Wood, cinnamon, and cloves round out the strong fruit sweetness. Where the alcohol is virtually nonexistent on the nose, it wakes up in my mouth, but doesn't overtake the sweetness. 
     Further chewing reinforces that this is a very sweet and rich, yet balanced Scotch. In addition to the apricots and peaches, I now also taste cherries and berries with some vanilla extract and chocolate malt. Like the nose, this has the same peaches and cream flavors. There's also a little bit of wood and nutmeg, but I wouldn't call this Ben Nevis heavily spiced.
     The sweetness lingers with some wood tannin bitterness, a calm ending to a rich and potent Scotch. Chewing allows the fruit sweetness to linger longer with some wood and mint. It's incredibly oily and I can feel my mouth pucker with how dry it is. The tannins and oils take over my mouth, persisting for over 30 minutes. It's kind of ludicrous. While this is fruit forward on the palate, it's dark and woody on the finish.
Place on the Whiskey Shelf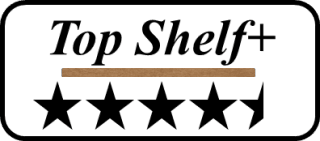 This Ben Nevis 21 Old Malt Cask is simply amazing. Just like the other Ben Nevis Scotches I've had, this is incredibly rich, flavorful, and complex. Interestingly, this Ben Nevis 21 Old Malt Cask is quite different from the Ben Nevis 18 bottled for Antony Pirt. Whereas the Old Malt Cask is full of peach, apricots, and berries, the Antony Pirt has more tropical fruits such as papaya, honeydew, and pineapple. 
     Tangent aside, this Ben Nevis 21 is incredible and significantly better than most other $100-120 Scotches out there. It's a shame that there are only 483 bottles and it's sold out on the K&L website. The good news is that my faith in Ben Nevis is as strong as ever and I hope sooner than later to be able to gain access to a different bottle.