Four Roses Single Barrel Private Select review
Ben Nevis 18 Independently Bottled for Antony Woodville Pirt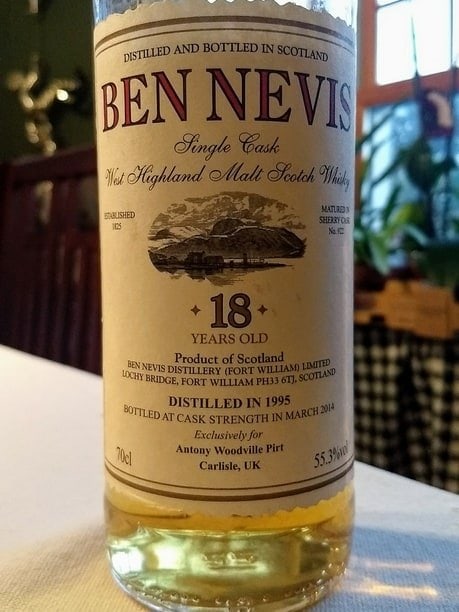 Distillery: Ben Nevis
Type & Region: Scotch, Scotland, UK
Alcohol: 55.3%
Composition: 100% malted barley
Aged: 18 years in a refilled sherry butt
Color: 0.3/2.0 on the color scale (pale gold)
Price: $110 (750mL)
From the back of the bottle:
"This cask was first filled with Ben Nevis new make malt spirit for a broking company, operating at that time, on 16th November 1995. This was then bought by Mr. Pirt, one week later, on 23rd November. The cask by this time had been transferred from the Filling Store to Duty Free Warehouse No. 3, one of the remote warehouses, at Ben Nevis Distillery. It was dunnage stowed, where it remained maturing for the past 18 years until being removed for bottling in March 2014. This bottle is only one of the 545 bottles that were yielded from Cask No. 922 or 1995, belonging to Mr. Antony W. Pirt."
Four Roses Single Barrel Private Select review
*Shout out to my wonderful buddy and old college roommate for giving me this sample.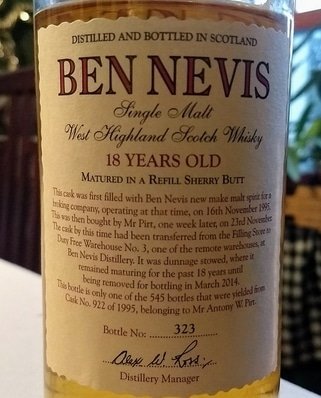 Ben Nevis, owned by Asahi (the Japanese holding company that also owns Nikka), is a Highlands distillery named after the tallest peak in Britain, located right next to the distillery. In my experience, I've only seen independently bottled Ben Nevis, but I read that there is a 10-year Scotch that may not be widely sold in the US, and about 1/3 of the new-make spirit is blended into Nikka Black, a blended whiskey (link here). 
     I have a great affection towards Ben Nevis because my favorite Scotch of all time is a Cadenhead independent bottling of Ben Nevis 22 (review to come eventually). I love Independent bottlers. They're able to get access to very interesting and unique Scotches the distilleries themselves might not release to market, providing us, the consumer, with incredibly interesting whiskey, often at lower prices than what the distilleries themselves might offer. 
Four Roses Single Barrel Private Select review
     Ben Nevis 18 is an absolute treat for my nose: an amazing blend of just cut open green apples and grapes, with pear, apricot, citrus, and light honey mixed into it. Light butter creaminess appears here and there behind the fruit. Ben Nevis 18 is incredibly bright, vibrant, fruity, and sweet, but not cloyingly syrupy. The alcohol is quite mellow, but the 55% alcohol is strong enough to enable the plethora of scents to stand out and intermingle. A light malty base also helps counterbalance the fruit. 
     Intense swirling releases some alcohol, honeydew, and vanilla, supplemented with a light grassy hay scent. It's a very pungent and pleasant Scotch. As the liquid subsides, some of the fruit gives way to cocoa and just a hint of pepper. 
     Ben Nevis 18 smells incredible. It has a similar nose to fino sherry, which has the same bright, fruity apple, and lightly floral smell, but without the nuttiness and earthiness. My girlfriend even says that it smells like white wine, not alcohol, further reinforcing that notion. It's just a fruity and topical delight.
Four Roses Single Barrel Private Select review
     This is an absolute bomb of tropical flavors. Fresh papaya and guava immediately jump front and center as the liquid hits my tongue, followed by pineapple and honeydew. It has the same burst as the first bite into the perfectly ripe fruit. The first words out of my mouth are an emphatic "holy shit!". I'm immediately transported to a tropical island where I'm being fed a buffet of tropical fruits while the chorus in Deadpool 2 sings "Holy Shitballs" over and over (YouTube link here for that song, start at 40 seconds). The sweetness is deep, bright from the pineapple and honeydew, and sweet yet savory from the papaya and guava. Even with the strong fruit, I can still taste some underlying dark chocolate from the malted barley. The 55% alcohol is also fairly hot and spicy, constantly reminding me that although it's very tropical, it's still Scotch.
     Even with chewing, the second taste is more of the same, with the addition of green apple and honey. The flavors build as I chew and become quite intense after a few seconds, leaving a light taste of something grassy, woody, and spicy that contrasts the fruit. The flavors fade into a gentle burn and apricot and honeydew sweetness that transitions into a lightly dry and bitter taste. It ends with a pinch of cocoa powder. Ben Nevis 18 is utterly incredible.
Four Roses Single Barrel Private Select review
     This pairs very well with vanilla flavored foods such as sponge cake, which I happened to be eating the first time I drank this. It also may pair well with fruits, chicken, and bread. Dark and heavy flavors such as chocolate, red meat, and anything heavily spiced likely won't pair well with Ben Nevis 18. If you want the full experience, drink this on its own and give it your full attention.
Place on the Whiskey Shelf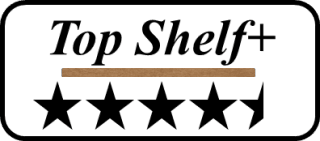 Ben Nevis 18 is the nectar of the gods and one of the best Scotches I've ever had. It's so rare that I say "holy shit!" after my first taste, but it's a telltale sign of something exceptional. It easily could have been one-dimensional, but the light wood, creaminess, and bitterness help balance the strong sweetness. To compare, this is amped up Glenlivet Nadurra FF2015, an excellent Scotch in its own right that's more accessible. It boosts every fruit note and adds a few new ones, launching it up to the Top Shelf+ rating. Cheers to you Antony Woodville Pirt. Whoever you are, you have impeccable taste. In a perfect world, I would drink this every day…if only I could get my hands on a bottle. 
     One note about the sherry aging. My guess is that Ben Nevis 18 was aged in a refill fino sherry butt. It has the lighter color of a fino sherry and the same apple and floral characteristics, not the dark fruit and nutty traits that come from oloroso or pedro jimenez. Aging in fino barrels is uncommon. Used oloroso and pedro jimenez barrels are more commonly used.